Even a doc about Arabian horses can be controversial.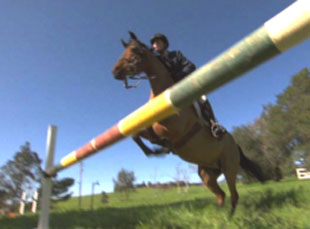 Posted by Vadim Rizov on
Some documentarians specialize in controversy, so much so that news of them can start to seem a little routine. (Michael Moore made someone angry? Do tell!) Then there are other filmmakers, less well-known, who just can't catch a break even when they're trying to keep their heads down.
Such is the case with Jo Franklin, who's been making documentaries for 30 years and is now encountering her latest stumbling block: the Saudi Arabian government wants to destroy all copies of her documentary about Arabian horses. No, really.
The movie in question is "A Gift From The Desert: The Arabian Horse," an hour-long doc that's about pretty much what it sounds like. Franklin filmed in Saudi Arabia, Oman and Kentucky. According to Franklin, there's two main reasons for the Saudi government's displeasure. First, the movie shows female horse riders, a hot-button issue as the kingdom continues to internally hash out its stance on women's rights. Second: King Abdullah's stable has an Irish vet and a head trainer who's British, and foreign workers are problematic.
The real surprise here, though, is that the Saudi government really doesn't trust Franklin, who's in way done as much for the Arab world as any TV documentarian. In 1980, Franklin was working on her three-part documentary for PBS "Saudi Arabia" when all diplomatic hell broke loose over "Death of a Princess," a doc about the execution of an adulterous woman, in which interview transcripts were filmed.
The political consequences were off the charts: amongst other fall-out, restrictions were placed on visas for British businessman, Concorde flights were blocked from Saudi airspace, and Mobil placed a hilariously disingenuous ad in the New York Times claiming that the company cared just because they were interested in the moral issues at stake ("We believe that if a free society is to survive, we must openly and candidly discuss these issue") — not because they were, like, worried about access to oil.
Franklin, though, went ahead and finished her film, which the AP deemed "a fascinating look at an ancient and, until recently, closed [country], hurtled within the last half-century into a modern world."
She went on to make a series on "The Oil Countries" and then — most controversially — another PBS doc called "Days of Rage," about the Palestinian intifada uprising that began in 1987 that, among other things, was called "orchestrated Palestinian propaganda." (That link contains more acid political flashbacks than you can handle.)
So what does Franklin do? She makes a documentary about horses — and now she's an enemy of Saudi Arabia! Some people just can't win. It's a hard-knock life for documentarians, but come on. Equestrian fans just don't care and no one else will pick up on this as a talking point besides the usual Breitbart folks. And this time they'll have a real point.
[Photos: "A Gift From The Desert: The Arabian Horse," SeaCastle, 2010; "Death of a Princess," ITV, 1980]