Casting a new generation of slasher victims, in anticipation of "Scre4m."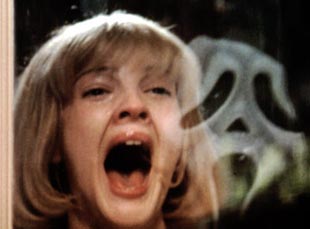 Posted by Vadim Rizov on
In 1996, Wes Craven and Kevin Williamson gifted the world with "Scream," the indelibly smart-ass slasher movie that works even for people who don't like horror movies (like me) and better still for those who love them.
The cast was a group of no-names — David Arquette, Matthew Lillard, Rose McGowan — plus TV folks ("Party of Five"'s Neve Campbell, "Friends"' Courteney Cox). The big celebrity draw, god help us, was Drew Barrymore (fresh off "Batman Forever," no less), and the uncredited cameo came courtesy of Henry Winkler.
Everyone involved became instantly iconic (except for Winkler, who already was), stepped up to the task of becoming generational standard-bearers in a way "Reality Bites" could only dream of. Forget coming-out rehearsals and invocations of MTV; "Scream"'s the real voice of disaffected, unthinking pomo snark, and it's funnier too.
In 2011, the franchise will go for the trick again. The Playlist rounds up the latest cast, which has expanded to include not just original players Campbell, Arquette and Cox (the latter two are married now, which will presumably come in for some meta-ribbing during the film) but a grab bag of others: Rory Culkin, Hayden Panettiere (here's hoping she gets killed off early on), Lake Bell (of, uh, HBO's "How To Make It In America"), Nico Tortorella (of failed CW drama "The Beautiful Life") and — a genius touch — Lauren Graham of "The Gilmore Girls," who has yet to find another part as good as the one that made her famous. We can only pray that Alexis Bledel will show up as her daughter once more.
I can't help but feel this casting is a little deflating. The original "Scream" cast was basically composed of annoying people (depending on how you feel about "Friends") and the at best semi-famous. In that sense, the casting of "Scream 4" (or "Scre4m," as the poster would have it) is one of the endlessly meta franchise's savviest moves — if they pull it off, it'll be a whole new generation of icons made expressly for fresh slaughter. Yet: not to be one of those guys who insists young stars now all look plastic and interchangeable…but this crew (excepting the lovely Ms. Graham) really does look generic. Which I suppose will make their slaughter all the more pleasurable.
There's another, more compelling reason to anticipate the film: it's rare to reboot a franchise with some of the original players a full decade later. By warping the minds of a whole new generation of teenagers (the way he did in the '80s with "A Nightmare on Elm Street"), Craven's created a built-in fanbase of twentysomethings just primed (and just old enough to really anticipate this) to see the new group of kids usurping their generational place just get killed.
This is how we get nostalgic now. It's sick, but hey: it's kind of fun.
[Photos: "Scream," Dimension Films, 1996]