Almodóvar, Bardem and other famous Spaniards take on Franco.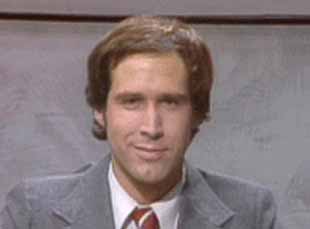 Posted by Vadim Rizov on
General Francisco Franco inspired one of "Saturday Night Live"'s first running gags, in which original Weekend Update anchor Chevy Chase would come up with new and original ways to remind viewers that "Generalissimo Francisco Franco is still dead," a joke which went on for months and months.
Franco's name was a byword in a certain kind of charged '60s movie. In "The Prime of Miss Jean Brodie," '30s teacher Maggie Smith exhorts his glories to her students, and — of course — one of them goes off to fight for him and dies. In '60s artifact "I Am Curious (Yellow)," his name gets thrown around by Lena, the spunky protagonist who has nothing better to do than badger strangers about their political views. That spirit of political self-congratulation was roundly mocked by Lukas Moodysson in "Together," his movie about a dysfunctional commune (the only kind, really), whose members get celebratory on the day of Franco's death.
Mostly, though, the Spanish Civil War haunts movies obliquely rather than with direct invocations of Franco's name — see Guillermo del Toro's "serious" movies "The Devil's Backbone" and "Pan's Labyrinth," the latter of which helpfully points out that fascism is bad by having as its villain an evil general who's constantly checking his watch.
A more direct attack on this sensitive subject is arriving, thanks to the likes of Pedro Almodóvar and Javier Bardem. The occasion is the strange case of Baltasar Garzón, a Spanish judge who once issued a warrant for Chilean dictator Augusto Pinochet, contemplated prosecuting former Bush administration officials for torture allegations at Guantanamo Bay and has expressed interest in investigating Henry Kissinger.
Garzón's latest move — attempting to investigate Franco-era "crimes against humanity" dating from a time before the term had any meaning — may get him suspended from practicing law in Spain for up to 20 years.
In solidarity, then, Almodóvar, Bardem, Maribel Verdú and others have appeared in a video that's mostly remarkable for the fact that it exists. As directed by Azucena Rodríguez, the (unsubtitled, be warned) short film consists entirely of famous Spaniards reciting the testimony of 15 people killed under Franco. The crux — that under Spanish law there's amnesty for all pre-1977 atrocities — leads to the outro, with a slogan "against the impunity of Franchism."
For Almodóvar to speak on the judge's behalf isn't necessarily terribly "brave" — he's got little to lose — but it's worth noting that while he's the most famous Spanish director in the world today, he's also far from an establishment kind of guy within his own country.
By lending his name to the cause and leading off the video, what he's done is simultaneously confirm his own prominence and his anti-establishment cred, at least outside the arthouse. And it seems like a worthy enough cause; anything the Wall Street Journal opposes is probably a good idea. And it's not like he'll ever make a movie about it anyway.
[Photos: "Saturday Night Live," NBC, 1976-present; "Pan's Labyrinth," New Line Home Video, 2006]