"Alien Vs. Ninja": I can sum this movie up in three words.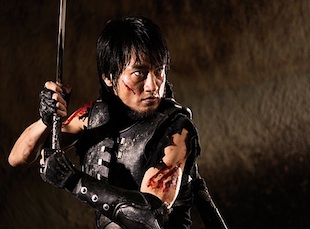 Posted by Matt Singer on
Reviewed at the 2010 New York Asian Film Festival.
High concepts don't get much more low-brow than "Alien Vs. Ninja," a great victory for truth in advertising and a movie whose subject matter can be — and is — summed up in just three words. Crackling with enthusiasm (if not high-end special effects), the movie delivers exactly what it promises, not a bit more, not a bit less. Don't expect this NYAFF selection to go the Janus Film/Criterion Collection route the way "House" did last year, though someday this could be the best and wittiest movie ever to air at 2am on the SyFy Channel.
Masanori Mimoto stars as Yamata, the toughest and most stylishly coiffed ninja in an extremely well-styled clan sent to investigate a mysterious fireball that crashes into the woods outside their village. As you might suspect from the title, its contents are a bunch of grumpy, ill-mannered aliens. No points here for originality: their design is shamelessly stolen from the Giger Alien, with just a dash of a dolphin thrown in to keep the copyright lawyers at bay. So it's Flipper the Xenomorph versus an army of sexy katana wielders with the fate of the world (or at least the fate of the generic forest where the entire movie is set) at stake.
Admittedly, the effects look cheaper than cheap, with laughably rubbery dismembered limbs and alien blood that looks like Kraft Fat Free Thousand Island Dressing straight out of the bottle. But the cast appears impressively unaware they're in a schlocky movie, and they attack their roles with a commitment that would have impressed Lee Strasberg. Similarly unfazed by his budgetary restraints, director Seiji Chiba squeezes every last ounce of creativity out of his premise. Unlike the tedious repetition of most stock-and-trade American monster movies, "Alien Vs. Ninja" doesn't just stick to 90 minutes of creatures striking from the shadows. Be prepared for a wide array of thrills: jump scares, karate fights, alien splatter, and even some creatively choreographed wirework.
One could question the inclusion of Donpei Tsuchihira as an annoyingly bumbling ninja — would you cast Jerry Lewis in Michael Biehn's part in "Aliens"? — but it does at least give us a reason to root for the aliens in what would otherwise be a fairly one-sided contest. "Alien vs. Ninja" isn't great art, but it's pretty entertaining trash. C'mon, who doesn't want to see an alien who shoots smaller aliens out of his nose deflect a hail of bullets with a ninja sword?
You'll laugh. You'll cry. All right, so you won't cry. But you'll definitely laugh.
"Alien Vs. Ninja" does not yet have US distribution. It plays Saturday, July 3 at 6:00 PM at the Japan Society and Tuesday July 6 at the Walter Reade Theater in New York City.
[Photo: "Alien Vs. Ninja," Sushi Typhoon, 2010]