Adam Sandler plugs his movie by talking sports.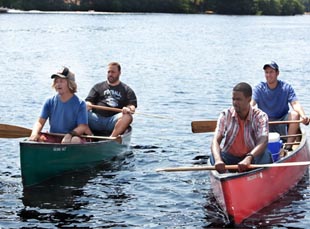 Posted by Vadim Rizov on
Regular viewers of the NBA were treated to a curious series of ads as the finals once more gave Los Angeles citizens the happy ending they're denied so often otherwise. Throughout the games, there were spots pushing the alleged comedy "Grown Ups" which did not, in any normal manner, address the actual subject matter of the movie. Instead, we got the SNL '90s gang (plus Kevin James, who's apparently being groomed for the illustrious position of being David Spade's heir) sitting around discussing, with po-faced seriousness, their thoughts on the NBA, which team they resemble, whose chances they fancy, and so forth.
Frankly, it's shocking they didn't get around to this sooner.
Comedians used to be different from you and I, but Adam Sandler and his merry gang have an entirely different reference point. They're regular bros you can drink a brewski with while pontificating upon the only subject that matters. Sandler wasn't really joking when he dragged his girlfriend to the ESPN Zone bar/restaurant in "Anger Management." For all his weird voices and childish tantrums, he's supposed to be just an average guy, and he is — which is almost terrifying.
The commercials (which, for whatever reason, don't seen to be available on YouTube) feature Sandler, Spade, James, Chris Rock and Rob Schneider chilling in their jerseys, waxing banal over their sports knowledge and nostalgia. Their knowledge is clearly real, their enthusiasm unfaked.
These are the least begrudging publicity spots ever. That's the most interesting aspect of the whole campaign — these regular bros have been elevated to a position of comedian adulation where they can speak about sports without making jokes or having to justify themselves. They have complete mastery of their subject, just like so many fine young men in this country.
I'm surprised that this has yet to spawn its own movie. Who doesn't love sports? Certainly not the target Sandler demographic. "The 40 Year Old Virgin" missed a trick; instead of Seth Rogen and Paul Rudd talking about "Star Wars," they should've just talked about Ron Artest for a while.
There hasn't been a film consisting of dudes shit-talking sports (though on the small screen, the Mark Duplass-led "The League" gives it a try). The quest for specific sports talk on-screen remains unsolved; whoever finally does it will make millions.
In the meantime, here's the "Grown Ups" crew talking sports on "Jimmy Kimmel":
[Photos: "Grown Ups," Columbia, 2010; Kevin James and Adam Sandler on "SportCenter," 2010]