The return of action stars who actually know how to fight.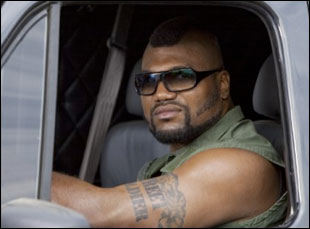 Posted by Vadim Rizov on
The New York Times recently published an unspeakably entertaining profile of Quinton "Rampage" Jackson, the new Mr. T. Up to now, Jackson's credits have been limited to titles like "Midnight Meat Train," so "The A-Team" is a whole new world and boy, is his copy excellent.
My favorite part is when he explains why two years ago he went on a high-speed police chase in Newport Beach: "Mr. Jackson now says he was depressed, sleep deprived and hadn't consumed anything but Throwdown Rampage Punch energy drinks for four days," journalist Franz Lidz reports with a straight face. (Jackson's two boys have the middle name "Rampage"; he really loves the word.)
Jackson is, of course, playing "B.A. Baracus," not Mr. T, who's a real person (sort of). That means he's the back-up comic relief, but also easily the most iconic of the gang. He's also the only one of the team who has a real background in the traditional business of the action hero.
He's paired with Liam Neeson (once-promising actor turned slumming action star), Bradley Cooper (inexplicably popular generic American body) and Sharito Copley (legitimately talented "District 9" actor being treated as a novelty actor). Jackson's background is in mixed-martial arts. He's giving the film some action credibility while the others do whatever kind of acting it is that "The A-Team" requires. (Aside from Cooper — I don't really understand what it is the dude does.)
A few MMA stars have been slowly moving up the ranks from the DTV-likes of "Unrivaled." There have been a few legitimate theatrical movies on the subject, too — "Fighting," "Redbelt" — but both starred non-MMA folks.
The fighters themselves so far have been in supporting roles; Scott Adkins, star of the last two "Undisputed" movies, doubled for Ryan Reynolds in the finale of "X-Men Origins: Wolverine," and that stands for Jackson too. But at least Jackson's is a supporting part that lasts the whole film, and Randy Couture will have a part of similar prominence (as far as we know) in "The Expendables" later this year.
Lead roles may come in 2011, when Gina Carano fronts Soderbergh's "Knockout," but for now MMA is still working its transition to being the kung-fu movies of the '10s.
And I'm all for it. While it's grand to see a previously unlikely candidate like Robert Downey Jr. get all ripped and become an action hero, there's been a definite void (in American films, at least) of action heroes who can do their own damn stunts and offer the frisson of well-choreographed mano-a-mano face-offs.
At a time when action movies have become an obscenely expensive pursuit, it's time to recruit more physically gifted non-actors, surround them with pros, give them minimal dialogue and unleash the games. More like Quinton Jackson, I say — his fight scenes you know you won't have to cut around.
[Photos: "The A-Team," 20th Century Fox, 2010; "Redbelt," Sony Pictures Classics, 2008; "Sherlock Holmes," Warner Bros., 2009]