Academy Awards consider a move to January.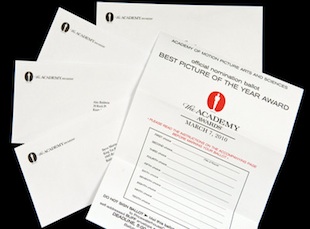 Posted by Matt Singer on
January is currently the official movie dead zone, but it may not be for long. Deadline Hollywood reported late last night that the Academy of Motion Picture Arts and Sciences' Board of Governors are discussing the possibility of moving next year's Oscars to January.
The move would have major repercussions, and not just on what day the awards would air (at present, next year's show is scheduled for February 27th, 2011). The way things shake out presently, nominations are announced just over a month before the awards (next year's nominations announcement is currently scheduled on January 25th). If the Academy Awards moved to January, even taking into consideration the possibility of a condensed timeline, nominations would have to be announced by the beginning of January.
That means the late December slots typically treasured by awards bait movies may become far less valuable (a few of the movies sitting in those coveted spots this coming holiday season include Sofia Coppola's "Somewhere," Mike Leigh's "Another Year," and the Coens' remake of ). If the Oscars move happens, don't be surprised if some of these release dates shift.
The major reason for the possible move is awards season fatigue, both from the audience, who put up with a ton of these shows during the first quarter of ever year, and from the studios, who shell out millions of dollars on film's Oscar campaigns and would greatly benefit, at least monetarily, by a move to January.
You can bet nominated stars would enjoy it too; as outlined in an exhaustive (and exhausting) piece by New York's Mark Harris, the battle over Oscars isn't so much a race anymore as the Ironman competition to end all Ironman competition. In our modern world of obsessive firsties, it could only help Oscar ratings to jump ahead of some of the other, previously earlier awards shows who feed off the public's curiosity about the Oscars like bedazzled barnacles.
Other folks that would definitely suffer from such a move include the trades, who make a killing off the For Your Consideration ads (they were one of the biggest winners of the move from five best picture nominees to ten), as well as sites like In Contention who specialize in awards coverage and see a spike in traffic during awards season. A move could also adversely affect the Sundance Film Festival, which usually dominates the world of film coverage for the second half of January but could struggle for headlines (and media and star attendance) if it overlaps with the Oscars.
That's why if you're gonna do the show in January, you need to make it early January, which would push the nominations into December; and that might be a reason this whole plan falls apart (or it could be the reason Sundance moves to early February in 2012, who knows).
Personally, I'd love to see a January Academy Awards, and a die off of a few of the other minor league awards as well. Gives us something to do in the otherwise quiet month of January and lets us close the book on the calendar year of movies close to when it actually ends, instead of months and months later.
[Photos: 2010 Academy Awards Nominations Ballot, Greg Harbaugh / ©AMPAS, 2010; The 82nd Academy Awards, Erik Ovanespour / © AMPAS, 2010]