Putting the original "A-Team" up against the new movie.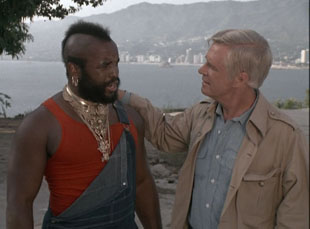 Posted by Vadim Rizov on
Before seeing "The A-Team" (to review for another publication) it seemed a good idea to at the very least refresh my hazy memory of the original show by watching the pilot. It was a nice time — the show's just as amiable and laid-back as memory indicated, and it's good company.
The new "A-Team," alas, is very much a product of its times, with hyperventilating sound, some crappy CGI and incoherent set-pieces. (It's also occasionally hilarious in a "Transporter" way.) The original show is very much of its time, but it holds up better than anyone would have guessed.
The movie gives our heroes an origin story in Mexico, perhaps a tip of the hat to the two-part series pilot "Mexican Slayride." The episode's a straight rip of "The Magnificent Seven": marijuana-growing guerrillas are terrorizing a small town, and the team leads the villagers in a stirring revolt.
You know the drill: a townsman yells "Our grandfathers would spit on us! Better to fight and die than to run like children!" and it's game on. But getting there is a leisurely process — tthe show opens with many, many establishing shots with no people, so many it's closer to contemporary art-house master-shot cinema than a normal action movie.
The fight scenes are done in the show's patented no-visible-violence style — though what's striking about them now is how unbelievably jaunty and upbeat the music is, like there aren't cars flipping all over the place and bullets flying like nobody's business.
Not even Indiana Jones got to hear his theme all the time, but the music never so much as hints at danger, conflict or suspense. This creates a weird distancing effect — the violence isn't so much cartoonish as it is downright pleasant.
Introduced in the mental hospital, the maybe-he's-crazy-maybe-he-isn't Murdock gripes "I'm not nuts. I keep telling everyone that. Don't you think I want to get out of here and see 'E.T.' just like everybody else?" Later, the team scams a Mexican town by pretending to be the advance team for a movie called "Boots and Bikinis," starring Bo Derek, Farrah Fawcett and Loni Anderson, which sounds about right. They're cinephiles!
The real reference point, though, is Vietnam: there's a brief but startling shot from the back of a flying crop duster that totally looks like mass bombing is about to ensue, and in the finale the good guys bring a village to its feet to do the fighting for them. It's hearts and minds in action.
The show hums along pleasantly, establishing a men-hanging-with-men vibe that can only indulge one token female. (The only major character trait change between the old and new crew is that Face — Bradley Cooper now — is required not just to be a lady's man, but to only love one woman in particular, which isn't as much fun.)
As it happened, the end was near for this kind of low-stakes, high-frivolity TV series — as it was, in fact, for action movies starring not particularly complicated people who kicked ass without getting all traumatized or tortured about it. The movie almost manages to avoid getting predictably dark — but secretly, you know the team wouldn't really want to do all that fighting. The show's relaxed about its action in a way that's nearly impossible to see now, which is kind of a drag.
Or you could watch it yourself, below. The opening chase through the studio lot is awfully cool — you'll never think of "The Ten Commandments" the same away again.
[Photos: "The A-Team," the "Mexican Slayride" episode, Universal Studios Home Video, 1983; "The A-Team," Twentieth Century Fox Film Corporation, 2010]