A new Kongfrontation shows how the shift to CG has affected theme parks.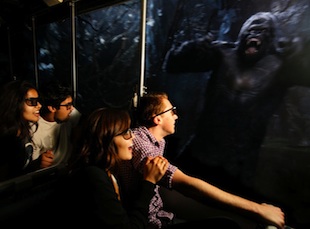 Posted by Matt Singer on
The Los Angeles Times has an interview with Matt Aitken, the visual effects supervisor of Weta Digital, about their work on the new "King Kong 360 3-D" ride, which opens later this week at Universal Studios Hollywood.
The comment that caught my eye was about the technical specs of the attraction, which is a new addition to the park's venerable Studio Tour and a replacement for the old animatronic King Kong that was destroyed by a disastrous fire a little over two years ago.
(Can you imagine the old Kong trapped in that inferno, stuck dutifully cycling through its endless loop of growls and punches until its burned into oblivion? It's almost as terrifying and tragic as the actual movie. You can practically smell the burnt banana breath.)
Anyway, Aikten tells the LA Times that the new Kong 3D movie runs "at a very high frame range — 60 frames per second — so a lot of the [adverse things] associated with a typical movie experience at 24 frames per second — motion blur and flicker — those go completely out the window. The audience is getting delivered a huge amount of visual information at a very high rate." The ride's official site states that "guests will see and experience the equivalent amount of media — one terabyte of information — that is usually rendered for one hour of a feature film."
These stats suggest a few things. First, that the rise of 3D movies designed to work like theme park rides has had a negative impact on theme park rides, which now have to work extra hard to emphasize on how superior they are to the stuff we get at the multiplex. Second, that there's still a long way to go in improving movie theater 3D, and that's just within the realm of existing (albeit expensive) technology. Third, animatronics, those borderline creepy staples of theme park attractions for decades, might be on their way out.
That makes sense. With fewer and fewer practical effects and more and more CGI in movies, there's less inherent appeal for good old-fashioned effects-based rides at theme parks. This change also represents a subtle but important shift in the way park guests consume these rides. The old "King Kong Encounter" was couched as a trip through a working movie production — listen to the tourguide's intro in this video:
That model is now completely outdated; there's no animatronic or prosthetic gorillas on movie sets anymore; on bigger productions, there are barely any movie sets period. A tram ride pretending to be a trip through Peter Jackson's "King Kong" set would have to discover a small English actor covered in ping pong balls, not exactly a show-stopping display of movie wizardry before you add in all the computerized bells and whistles.
To accommodate the shift from on-set movie magic to post-production trickery, parks like Universal Studios have shifted from pitching themselves as a trip into the movies to a trip to the movies you can't see anywhere else. Instead of immersing themselves in a "production" via clever analog trickery, theme park attendees now basically watch movies with better frame rates and image quality than the ones they get at home. That seems to me like an inherently more passive experience, but I guess you'll need to ride this new "Kong" and decide for yourself.
Here, for comparison's sake with the video above, is a featurette for the 2005 "King Kong" — as jarring a juxtaposition as the one between Merian C. Cooper and Ernest B. Schoedsack's film and Peter Jackson's:
[Photo: "King Kong 360 3-D," Universal Studios, 2010]