A despicable app for "Despicable Me."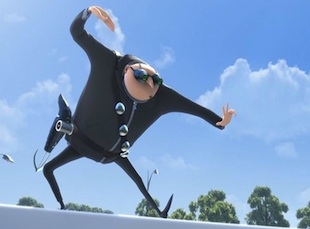 Posted by Matt Singer on
Good news for people who think the theatrical experience hasn't been ruined enough by people using their cell phones during movies: one film this summer plans to actively encourage this behavior. That would be "Despicable Me" a CGI animated film about an evil genius voiced by Steve Carell.
As reported by the New York Times, "Despicable Me" comes to theaters on July 9th with a cross-promotional tie-in with Best Buy and their new cell phone application "Best Buy Movie Mode." The app's official site boasts that it features "the Minionator to translate every hilarious word the Minions are saying during the 3D end credits of "Despicable Me," and proclaims itself to be "the only mobile app that syncs with the movie screen to give you a one-of-a-kind experience" as if that is a good thing.
Smartphones can be a wonderful thing for moviegoers: they can be used to get showtimes anywhere at anytime, or access databases like IMDb. But cell phone usage inside movie theaters is a scourge. And while this doohickey will only work during "Despicable Me"'s closing credits, that's no guarantee that loads of cretins who don't deserve to live people who don't read the instructions carefully enough won't try to use it repeatedly throughout the movie (and then complain loudly when it doesn't work, then call a buddy and complain to them, then Twitter about it).
Best Buy's commercial for Movie Mode claims the app silences your ringer and dims your screen, but the first step of their how-to instructions on their site is "1. Put your phone into silent mode," which suggests a lot of wiggle room for human error.
Even if this thing works perfectly, it's only going to work perfectly for those who have it, which creates a situation where some people in the theater are laughing at something and others have no idea what's going on, which is pretty distracting in and of itself. But I guess if Best Buy wants to creatively tie-in to "Despicable Me" by giving viewers a taste of what it feels like to be the worst and most evil person in the world, this will do the trick.
I don't necessarily begrudge Best Buy here; they're a media company and they're trying to promote their products. Fine. But it's shocking that a movie studio would be complicit in people's attempts to disengage from their products and ruin the moviegoing experience of their fellow theatergoers. By encouraging viewers to take their eyes off the screen and focus on their phones, they're essentially admitting their product isn't good enough to hold the audience's interest on its own.
[Photos: "Despicable Me," Universal Pictures, 2010]