Review: "Zonad," a liquor-soaked alien invasion.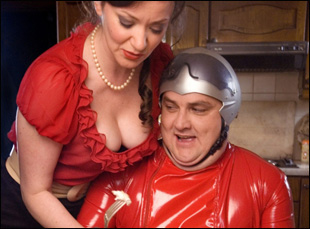 Posted by Stephen Saito on
Reviewed at the 2010 Tribeca Film Festival.
Around midnight in front of the Village East Cinemas, a group of friends in front of me were saying they might be inspired to finish that documentary they've been kicking around after seeing something as "half-assed" as "Zonad" get into Tribeca.
It may be the only time "Zonad" will be cited as an inspiration itself, since so much of it is inspired by other films. It surely won't be the first time somebody is disappointed by it. As director John Carney's follow-up film to "Once" — as delicate and revered as any romantic drama has been in years, if not decades — "Zonad" (co-directed with his brother Kieran) is certainly a shock to the system, yet it's also all but assured many midnight screenings to come if the right audience finds it.
Like one of those "Saturday Night Live" sketches that begin with a funny premise before getting weird and slightly uncomfortable and then ultimately funny again because of the commitment to the original premise, one's love of "Zonad" will depend entirely on how much you commit to its absurdity.
Certainly, the Carney brothers are true believers. They touch down in the Irish town of Ballymoran where the local entertainment consists of gazing up at the stars and drinking at the local pub, so imagine the community's embrace of Zonad (Simon Delaney), a portly stranger in a red latex spacesuit that is found passed out in front of a liquor cabinet.
No one questions Zonad when he comes to, easily accepting his explanation that he passed through a "rip in the fabric of time." No one wonders if he's responsible for those empty gin bottles or if it's a good idea or not to undress in front of him when he claims he's hibernating.
Even when the family that takes him in finds their telly and DVD player in the back of his trunk, they trust him implicitly and soon after, their teenage daughter, as well as the rest of the town's women, fall at his feet. However, Zonad's godlike treatment only lasts so long since a rival "alien" Bonad (David Pearse) swoops into town and easily sways the locals' short attention spans.
All of this may sound genteel enough on paper, but the Carneys paint Ballymoran as a '50s era community of conformity thrown for a loop by the modernism Zonad represents — policemen are compelled to urinate on those unwise enough to question the aliens' bona fides and once chaste girls are possessed to paint "fuck me" on their eyebrows.
It could be seen as a parody in the vein of the knowing sci-fi spoof "The Lost Skeleton of Cadavra," but "Zonad" is too crude to be considered a loving homage and too wedded to its movieness to be classified as anything else. The fact that it's a tweener adds to the general hit-and-miss quality of the comedy, but also burnishes it with an unusual charm that's often elusive to the parodies that rely on a steady succession of empty sight gags and in-jokes.
Given the importance of music in "Once," it's not surprising that the Carneys can't help but slip in some familiar soundtrack cues as well as Bryan Byrne's incredibly versatile score to add to the humor, but it's ultimately their dedication to keeping the plot (and the good townsfolk of Ballymoran) simple while continually raising the stakes of what Zonad and Bonad are capable of. When the film ends in a musical number, it's all too fitting — it's ridiculous, out of the blue and hits mostly all the right notes.
"Zonad" is currently without U.S. distribution.
[Photos: "Zonad," Element Pictures, 2010]