Yo ho, an (Internet) pirate's life for some.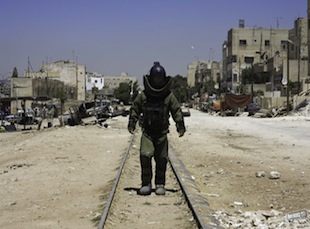 Posted by Matt Singer on
Download movies off the Internet if you must, but make no mistake: what you are doing is illegal and immoral. Even more unsavory than actually downloading, though, is the strained attempt by some who practice piracy to justify it on moral grounds. Consider this story published yesterday on Boing Boing about an e-mail exchange between movie producer Nicolas Chartier and a piracy advocate named Nicholas.
After reading that Chartier's Voltage Pictures was preparing to sue people who'd downloaded the Voltage-produced "The Hurt Locker" off of BitTorrent, Nicholas decided to voice his displeasure with an e-mail to the man himself. His note was, if nothing else, exceedingly polite: "I wish to register my disagreement with these tactics, and would like you to know that as a result of these actions I am boycotting your films," Nicholas wrote. "The majority of the people you are suing were not seeking to make money from their downloads, and will be financially devastated by a lawsuit or settlement. While it is completely understandable that Voltage Pictures wishes to defend its intellectual property, this is an inhumane way of doing so."
Chartier, who has a history of getting himself into trouble via e-mail, responded to Nicholas with a letter of his own. His note was, if nothing else, exceedingly rude. "I'm glad you're a moron who believes stealing is right," Chartier replied. "I hope your family and your kids end up in jail one day for stealing so maybe they can be taught the difference. Until then, keep being stupid, you're doing that very well. And please do not download, rent, or pay for my movies, I actually like smart and more important HONEST people to watch my films."
Certainly, it's tough to side with someone that incredibly harsh. But that doesn't mean Chartier doesn't have a point; letter-writing Nicholas is protesting the idea of Chartier suing people who are stealing his work. Nicholas's argument is that the people who downloaded "The Hurt Locker" illegally did so to watch the film and not to make money off of it — sort of an arrest-the-drug-dealer-but-not-the-drug-user mentality. Nicholas, it seems, has bought into the "Robin Hood"-esque take-from-the-rich, enjoy-by-the-poor mystique of Internet piracy: that because media companies and filmmakers are so wealthy, regular folks with less money are entitled to download their work for free. (By the way, what, exactly, is Nicholas going to boycott? Not paying to watch Chartier's movies?)
If you want to boycott Chartier's work because you don't like his attitude, that's your right. What's not your right is to download his movies off the Internet for free because they're available and it's easy to do. Just because guys like Chartier are rich (and, apparently, sorely lacking in people skills) doesn't give you permission to take their stuff.
[Photos: "The Hurt Locker," Summit Entertainment, 2008; "Pirates of the Caribbean: At World's End," Walt Disney Pictures, 2007.]