"Where the Wild Things Are" won't scar.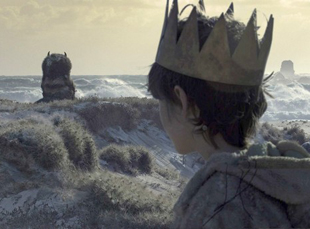 Posted by Vadim Rizov on
"Where The Wild Things Are" is coming out on DVD in the UK, prompting this interview with Spike Jonze in the Independent in which he looks back at the whole traumatic making-of experience from a distance.
And he's learned… not that much, although James Mottram speculates his career with the major studios may well be over. As for Jonze, he's still repeating the standard defense everyone uses when their movie is accused of being "too dark" for kids: "I think there's a knee-jerk reaction to things from parents. I think parents are more scared of it than kids are… It was a fight against the studio's anxieties."
In the absence of a real big-budget fiasco to pick on in recent years, "Where The Wild Things Are" was fussed over like it was "The Bonfire of the Vanities" or "The Adventures of Baron Munchausen," a case study in a maverick auteur derailing themselves — partially through running over budget, but mostly as a heroic stand for Art vs. Cynical Hollywood Profiteering. It wasn't, really — it was a gamble, sure, and Warner Bros. did freak out a bit, but the number of cuts and reshoots they demanded was nothing compared to, say, the forty minutes that were cut out of "Major Dundee" in 1965. In terms of great face-offs, it's not one for the books.
The "the kids don't mind, it's the parents" take is a time-honored tactic that implies that you're progressive and open-minded and your opponents, in time, will come out on the wrong side of history. Somewhere between the fuss from the studio over allegedly dramatic test screenings and the actual release of the film, few if any parents took to the editorial pages to express outrage or indignation. It was even milder than the mild concerns some had about "Babe: Pig In The City" being "too scary" for kids.
It was still possible, at points in the early '80s, to make a PG movie kids could attend with brief topless nudity or harsh language or cartoonish violence. Eventually, "Gremlins" and "Temple of Doom" went too far and there had to be a change. Generally, these days, people are more likely to get up in arms about movies that provoke particular special interest groups (like Catholics objecting to "The Golden Compass").
The real drag about "Where The Wild Things Are" is that no one wondered why more auteurs weren't running behind the backs of the dreary studio-line movie and making small crappy kids fare personal when no one was paying attention, like Iranian filmmakers dodging censorship by making allegories with kids. The average children's film looks like a glossy cereal commercial and plays worse. At least Jonze gave it a run for the money.
[Photos: "Where The Wild Things Are," Warner Bros., 2009; "Babe: Pig In The City," Universal, 1998]