Were Joseph Kahn's wrong turns on "Torque" actually right?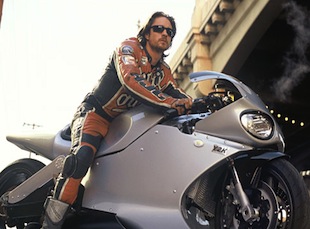 Posted by Matt Singer on
The weekly film review podcast The /Filmcast features three regular hosts, David Chen, Devindra Hardawar, Adam Quigley, and a guest host that changes each week. Typically, those guests are critics — both Alison and I have appeared on past episodes — but the show has also featured appearances by directors, including Kevin Smith and Rian Johnson, amongst others. Last week's guest was music video and commercial director Joseph Kahn, who came on to review the remake of "A Nightmare on Elm Street" and, during the show's "After Dark" segment, defend his lone feature film, the divisive motorcycle action spectacular "Torque."
The film, which stars Martin Henderson, Ice Cube, and Monet Mazur was released in 2004 to mostly poor reviews (Rotten Tomatoes Rating: 23%), worse box office (Domestic Gross: $21.2 million), and a few ardent supporters. Loudest amongst "Torque" partisans was Armond White who, in his typically contrarian New York Press review of the film called it "a B-movie in the Xbox era…an exhilarating combination of Pop and Art." He even went so far as to compare the "Torque" experience to "big-screen ecstasy," though he spelled the word as "ecstacy," so maybe he means something other than what I think he means.
I saw "Torque" in theaters back in 2004 and at the time found it to be a shamelessly goofy retread of "The Fast and The Furious" from "TFatF" producer Neal H. Moritz. Which is why I was particular intrigued by Kahn's defense of the film, which is, in essence, that it was a shamelessly goofy retread of "The Fast and the Furious" by design. As Kahn explained on The /Filmcast, "I wanted to do [with] "Fast & Furious" movies what "Evil Dead II" did with horror films: do a piss-take version of it…These are stupid-ass movies. What if I made one that was really fucking stupid?"
As defenses of films go, Kahn's is borderline genius, because it automatically excuses any flaw the film might — and definitely does — have. When Henderson's Cary Ford fights two meatheads, loses his weapon in one shot, then magically has it back in his hand in the next, it's not bad editing; it's a wry commentary on bad editing. When Ford leaps on a souped-up bike, and sunglasses appear on his face out of nowhere, it's not a continuity gaffe; it's a wry commentary on continuity gaffes. When bad guy Henry James (Matt Schulze) talks in an intense angry whisper even though he's in the middle of a raging dance club, it's not a dumb acting choice; it's a wry commentary on dumb acting choices. And so on.
The defense is genius; I'm just not sure most of "Torque" is. As Kahn acknowledges, while he intended the film to be a parody of "The Fast and the Furious," Moritz and the rest of the producers and executives didn't necessarily agree with him. "The person that [hired] me got fired a week before the movie came in," Kahn told The /Filmcast, "and literally a week before the movie got made, the script got rewritten… the reality of the [film] is it was my intention slamming right up against what the studio wanted, which was essentially a cheap 'Fast & Furious' knockoff."
The friction is evident in the movie. "Torque" does have a few clever sequences, but before the genuinely insane (and genuinely hilarious) finale — which includes a very memorable sequence where two women fight not only on their bikes, but with their bikes as well — it often looks more like the "Fast & Furious" knockoff Warner Bros. wanted than the parody Kahn wanted. On the "Torque" DVD commentary, screenwriter Matt Johnson makes it clear he didn't write a comedy; he describes the film as a spaghetti western on motorcycles, and even goes so far as to compare Henderson's character to Clint Eastwood's The Man With No Name (I guess because both guys have brown hair and need a shave). And despite Kahn's I-meant-to-do-that attitude, most of the film's Cro-Magnon macho posturing — and "Torque" is at least 64% Cro-Magnon macho posturing — reads more as sincerity than sendup.
Still, Kahn's candid comments do increase "Torque"'s rewatch value, if only as a example of what happens when director and studio collide on-screen (which is particularly appropriate, since the other 36% of "Torque" is things colliding on-screen). As Kahn put it, "The guy who made 'Torque' was an angry dude who just wanted to fuck the studio on a certain level." He fucked with audiences too, which is as good an explanation as any why they mostly hated the movie. Most parodies cater to the people who know and love the movies their spoofing; "Young Frankenstein" isn't an argument against Universal Horror, it's a celebration of what makes those movies fun. "Torque," on the other hand, doesn't just mock "The Fast and the Furious" conventions. By disguising itself so thoroughly as an imitator of the film, it also mocks anyone dumb enough to want to see it.
[Photos: "Torque," Warner Bros., 2004.]