Ranking the top secret projects of Abrams, Soderbergh, Linklater and Phoenix.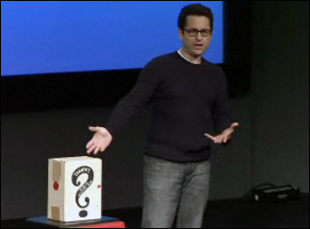 Posted by Stephen Saito on
There are hundreds of movies that the world at large isn't aware of until they show up at the local multiplex, but there are very few of note that go completely unnoticed. You have to wonder if there's something fundamentally wrong with a film culture where JJ Abrams' best laid plans to surprise audiences with his latest production (which will be teased in front of "Iron Man 2" tomorrow) were spoiled by movie news sites mere days before the release.
Still, there's a special place reserved for big-name filmmakers who manage to make their movies without the general public being the wiser. Perhaps it will come at the expense of the unparalleled pleasure of being truly surprised at the movies, but if you must, here are four films that have flown under the radar with plenty of speculation to come, ranked in the order of secrecy around them.
DEFCON 1: "Untitled 12-Year Richard Linklater Project"
As he was doing the publicity rounds for "Me and Orson Welles" over the summer, Richard Linklater complained that IMDb had listed the film that he started shooting in 2001 with the hope it wouldn't be made public. (Linklater has a reputation for being a little sneaky; the same year, he released "Tape," which he steathily shot in six days without almost anyone knowing until he premiered it at Sundance.) Still, it proved impossible over the years to keep the film (at times called "Boyhood" or "Growing Up") a secret, partly because it stars Ethan Hawke and Patricia Arquette and also because of its irresistible premise of tracking a child's growth from a six-year-old boy to a high school senior in real time. Ellar Salmon, who had a small part in Linklater's "Fast Food Nation," has been returning along with the rest of the cast and crew for a few days of shooting in Texas every year, with filming set to be finished in 2013. In interviews, Linklater and Hawke have been open about it, with Linklater telling Movieline, "I'm encouraged that I get asked about it. I just hope that people are interested when it's finally done."
DEFCON 2: JJ Abrams's "Super 8"
On one hand, it's amazing that Abrams was almost able to get away with what he did with "Cloverfield": shoot a teaser, attach it to the biggest movie of the summer, let it speak for itself and allow the buzz commence. Unfortunately, that wasn't to be with "Super 8," which has been described as a homage to Steven Spielberg's films of the early '80s. HitFix's Drew McWeeny, who must have sources deep in the bowels of Abrams's production company Bad Robot — he also broke the "Cloverfield" scoop back when its code name, "The Parasite," was only bandied about in hushed tones around Abrams's office — was the first to break the film's title, after which Vulture pounced on it with a description of the trailer from an insider who said "it shows a bunch of kids who are shooting a movie with a Super 8 camera in the seventies or eighties. When they develop the film, they notice that there's an alien creature in the frame." McWeeny speculated Abrams wouldn't be directing the film, but producing it, but /Film is reporting that Abrams is the director and has a source who has supposedly seen the trailer, with a full description to read at your peril.
DEFCON 3: "The Untitled Joaquin Phoenix Project"
Something always seemed fishy with Joaquin Phoenix's announcement that he would give up his acting career after "Two Lovers," given that he's been acting since he was six and had recently scored an Oscar nomination for "Walk the Line." Toss in the Phoenix's claims that he was leaving Hollywood to pursue a career as a rapper and it was obvious something was amiss. So it was only a minor surprise the other day when word leaked out that there was a secret screening of a mockumentary made by Phoenix's brother-in-law Casey Affleck about the star's misbegotten musical foray. Potential distributors were implored to stay silent about what they saw. One would hope this explains Phoenix's bizarre appearance on Letterman or that ill-fated performance in Vegas, but it remains to be seen whether what the agents at WME are shopping is a Sacha Baron Cohen-style romp or an arty self-reflective meditation and whether any studio will buy it, let alone the public.