"Tokyo Sonata" and "How to Live in the German Federal Republic" on DVD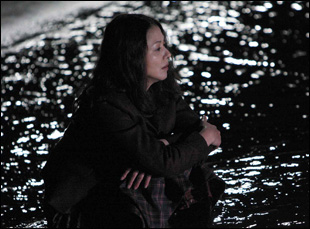 Posted by Michael Atkinson on
You know where you are right away with "Tokyo Sonata" — Kiyoshi Kurosawa-ville, a suburb of Japanese cinema that's commonly plagued by secret chaotic pressure, bubbling to the surface and causing cracks in the pavement. Here, it's a storm wind blowing in from off-camera, whisking a wide sheet of newspaper off a table and floating it across the room like a lazy manta. A woman scurries over to close the door, wipes up the rain on the floor, and then opens the door again, to watch the onslaught of weather in the trees. Bad times are coming.
Kurosawa is one of the most tirelessly fascinating directors at work today — he almost single-handedly lit the fuse for the J-horror movement, but actually his best-known films, from "Cure" (1997) to "Pulse" (2001) to "Doppelganger" (2003), aren't genre films but confrontational parables about instability and dislocation, often garlicked up with a Buñuelian sense of the absurd and a taste for metaphors that can sometimes get beautifully out of hand. ("Bright Future"'s jellyfish come to mind — what the hell?)
Thus, "Tokyo Sonata" may be the Kiyoshi Kurosawa movie for people who don't much like Kiyoshi Kurosawa movies, in that KK addresses his obsessions straight on, on a small scale that makes perfect domestic sense (most of the way), and with a happy ending yet. What possessed him? We should know better than to ask. "Bright Future" (2003) or "Charisma" (1999) are inscrutable question marks (and perhaps my favorites for that reason), and KK's career is filled with comedies and strange stuff we don't see over here. Whatever: the new film is palm-sized, brilliantly composed, typically eloquent and often creepily funny.
The woman at the door is Megumi (Kyôko Koizumi), a fortysomething mother and wife of tempered maternal reserve, unaware at first of the real storm: her husband, none-too-bright middle-manager Ryuhei (Teryuki Kagawa, swollen with anxiety), has just been laid off when his company decides to avail themselves of cheap Chinese labor.
Kurosawa gets a curdled laugh from this in his typically smooth visual way: as Ryuhei exits the building with his bags of personal effluvia, he stalks distractedly toward a public square across the street where, revealed in the tracking shot, three other black-suited salarymen sit with their belongings, all equally lost. Like several other traumatized modern men in contemporary movies, Ryuhei can't admit defeat to his wife, and he wanders the city for days pretending to be at work, meeting up with a seemingly unhinged friend from school who's also been downsized and who enthusiastically embraces the masquerade lifestyle.
That's just the beginning: Ryuhei's infrequently seen teenage son impulsively decides to join the American military, just in time for the troop surge, and the younger son, all of 12, creates a mini-insurrection at school by calling a bullying teacher on his porn consumption ("Like a revolution!" his buddy crows as the classroom devolves into chaos), and violates his cash-poor father's orders and pays for secret piano lessons with his lunch money. As Yeats said, things fall apart.
A visit to the unemployed slacker friend's house for dinner seethes with slow burns and mysterious observations. Soon after, the friend disappears in a marching throng of homeless men. Ryuhei gets a job cleaning mall toilets, and sees his fellow janitor leave at shift's end in a tidy business suit — everybody is lying about who they are. Slowly, the movie nudges into a more comfortably KK-esque realm — that is, toward the possibilities of irrationality — when KK regular Kôji Yakusho appears as a self-loathing burglar, kidnapping Megumi and lighting out in a ridiculous stolen sports car for whatever frontier they can find.
Which isn't far, in Japan, and the last act of "Tokyo Sonata" is hauntingly, subtly crazy, as if the family's disintegration virally affects the whole city. It may be a bit too subtle for Kurosawa fans, but that might just mean they're watching for the wrong reasons.
Good thing the filmmaker is never less than inventive visually — every shot has unpredictable layers and details, from the trains that continually plummet by the oblivious characters to the playful intimations of social collapse out on the streets. He's the kind of director various filmgoers and critics want various things from right now, but some time in the future it'll be obvious that Kurosawa was a master.