"The hobbit" delayed again, Andy Serkis tortures himself.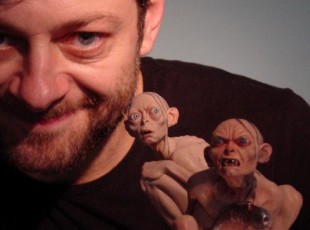 Posted by Brandon Kim on
When asked about getting ready for "The Hobbit" and the long dark of more motion capture Gollum, Andy Serkis ("King Kong," LOTR trilogy) told Collider, "It's a bit of a movable feast at the moment, really….I think it's towards the back-end of this year."
[Andy Serkis with Smeagol and Gollum. Photo by Andy Serkis]
What a burn up. I read December 2013 as a new date in a press release, who knows now. But the ever impressive Serkis, who brilliantly brought everyone's favorite precious to life also had plenty of fresh excitement for revisiting Tolkien's world. He was down in New Zealand doing reshoots for the Steven Spielberg/Peter Jackson film, "The Adventures of Tintin: The Secret of the Unicorn" and had a day there with "The Hobbit" director Guillermo del Toro. Serkis was thrilled by the concept art, the toys, and most importantly by del Toro himself, who surely gets it. Speaking on del Toro's vision and his fresh pair of eyes on Middle Earth, Serkis said, "They're gonna see something extraordinary."
It's not Gollum or Middle Earth that Serkis was torturing himself over, but what the actor puts himself through for his roles is truly above and beyond. He must have been sucking on Ricola for months after doing that Smeagol/Gollum voice work. Still that's nothing compared to what he did for his latest film, "Sex & Drugs & Rock & Roll" which just premiered earlier this month in the US.
For his role as Ian Dury, the British rocker who rose to fame in the 1970's, Serkis lost an amount of weight that might equal Elijah Wood's total body mass. He also "worked out the right side of his body while letting his left side go weak and wore a leg caliper for months to mold himself into the polio-afflicted British punk icon." Serkis just rules, like a motion capture Christian Bale without the violent fits.
For the full interview, much in need of editing, but still quite good check here.