The Black Keys tough new album, Brothers.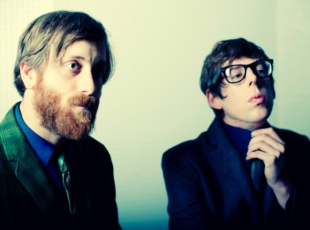 Posted by Brandon Kim on
Start with a thick layer of bass. Drop in a pound of fatback drums, beat with a cup of guitar and an ounce of filthy keys. Sprinkle with sweet nothings. The Black Keys' new album opener, "Everlasting Light" is so savory you'll want to keep hitting it up until you're the fattest possible bastard. I was digging it well past feeding time, busting seams. That T-Rex lick meets buttery blues ballad just won't let you stop at one.
The Black Keys: Dan Auerbach and Patrick Carney.
The album doesn't let up there either. Overall it compels one to move, a good thing or Bloomberg would be banning this shit in the fight against childhood obesity. The 15 track album, Brothers, includes the Danger Mouse-produced song "Tighten Up" and one cover, the 1968 Jerry Butler hit, "Never Gonna Give You Up." The rest of the record is all written, performed and produced by Dan Auerbach and Patrick Carney – aka The Black Keys.
Brothers is due May 18 on Nonesuch Records but you can stream the whole thing now on NPR here. I've taken the liberty of embedding that opener below, but head there for the rest.
And dig this freaked out video for the track "Next Girl."
More Black Keys here and Blakroc videos!
theblackkeys.com
Initial tour dates:
May 20 Madison Square Garden New York, NY
May 25 Late Show with David Letterman New York, NY
May 26 Late Night with Jimmy Fallon New York, NY
June 2 The Depot Salt Lake City, UT
June 3 The Fillmore Denver, CO
June 4 The Crossroads Kansas City, MO
June 5 Wakarusa Music & Camping Festival Ozark, AR
June 8 First Ave Minneapolis, MN
June 9 First Ave Minneapolis, MN
June 10 The Pageant St. Louis, MO
June 11 Bonnaroo Manchester, TN