"Twilight" offers a new dawn for alt-soundtracks.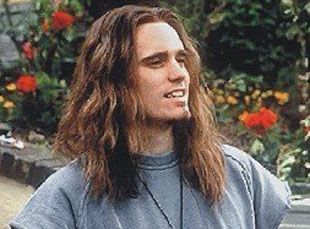 Posted by Vadim Rizov on
The dominant narrative about movie soundtracks points to the '90s as the key moment when the all-original score was tossed aside in favor of soundtracks stringing together disconnected B-sides and one-offs from bands (that didn't even need to be in the movie) — another key source of revenue in the ever-expanding merchandising race. "Singles" was perhaps the first movie whose soundtrack was (for better or worse) more culturally important than the film itself. Another gold standard was the "Batman Forever" soundtrack, which persisted long after the film had become a pop culture punchline: it had a big U2 single ("Hold Me, Thrill Me, Kiss Me, Kill Me") and attempted to blow up The Flaming Lips by throwing the wildly incongruous "Bad Days" onto the soundtrack.
In recent years, Wes Anderson (among others) has been (unfairly) accused of making movies for the sole purpose of issuing soundtrack mixtapes, but the "Twilight" movies have taken this mentality to a whole new level. The first "Twilight" soundtrack sold like crazy, Linkin Park tracks and all. Someone made a decision, though, to "Juno"-fy the soundtrack for "Twilight: New Moon" — and lo and behold, kids who have zero interest in a duet between Grizzly Bear and Beach House's Victoria Legrand bought the damn thing anyway.
In anticipation of the third film, someone in marketing decided to unveil the third soundtrack's selections track by track over seven-and-a-half hours — suggesting that both rabid "Twilight" fans and certain kinds of indie nerds share a common bond in their willingness to click refresh over and over for the tiniest scrap of information on the franchise or the latest round of dream team artist pairings and one-offs.
"Juno" probably kicked it off, with its slow-burn platinum success of a soundtrack. It was the first chart-topping soundtrack since "High School Musical 2," from which it couldn't be more diametrically opposite. Naturally, less than a year later, the floodgates opened with "Nick and Norah's Infinite Playlist," which arrived as a calculated (if kind of cute) attempt to cash in on melodically oriented indie rock's percolation into the mainstream. While music supervisors won't rock the boat with truly avant garde choices, it's an arrangement that works well for both parties: the music isn't as obvious or ubiquitous as pop fare and gives the film a boost in indie cred and if people like the movie, bands can sell better than they ever have before (and, quite possibly, better than they will again).
And it means something else: movie soundtracks are about to get a lot more tolerable, less fixated on adducing chart-toppers by sheer force of will. Since album sales are way down in the dumps anyways, event soundtracks work for everyone; it's the presumable rareness/obscurity of those involved (whose worth was already proved in the movie) that moves the product. This is one of those few times everything works out well for everyone without being evil to anyone.
[Photos: "Singles," Warner Bros., 1992; "Nick and Norah's Infinite Playlist," Sony, 2008.]