How did the '80s become a punchline?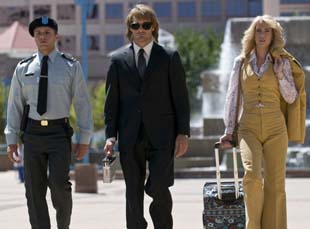 Posted by Vadim Rizov on
Give anything 20 years and it'll start to look like the makings of a joke. And so — welcome back to the '80s, or, as LCD Soundsystem's "Losing My Edge" put it, "borrowed nostalgia for the unremembered '80s." You don't even need to have had first-hand experience with the decade to make fun of it.
Today's opening of "MacGruber" — which Karina Longworth's review clusters alongside "Hot Tub Time Machine" and "Cop Out" as movies whose primary subject is a decade's worth of pop culture rather than actual people — confirms what we already knew: VH1's "I Love The 80s" was far, far more insidious than we figured.
Compare and contrast — the trailers for "MacGruber" and "Hot Tub Time Machine" are below:
The '70s didn't suddenly see a big spate of films mocking the '50s, nor the '80s the '60s and so forth. There is a joke in "Dazed and Confused" — the only one that really guns for the low-hanging fruit — where a character speculates on the rule of how every other decade is awesome, and figures out since the '70s suck, maybe the '80s will be totally awesome. But that's about it.
That an entire decade's worth of pop culture is, in and of itself, a punchline, is new and unnerving. It's different from the numerous films taking old TV franchises as a starting point for a movie. The idea isn't playing with an established brand and resurrecting familiar images; it's toying with passed-down imagery as a joke whose currency is already established.
The idea that changes in fashion (accessories, clothing, music, so on) automatically constitute hilarity, then, is a special rule we've come up with for the '80s. Familiarity breeds contemptuous affection for a decade that's just stupid, which was VH1's whole premise — mention just a title or name, then laugh away. What's unclear is whether thirtysomethings now getting to make their own movies will be able to sell that to kids too young to directly remember the '80s, those for whom the below montage conjures no nostalgia.
What really gives me pause is wondering whether this is a one-off or a harbinger of something more sinister. 20 years hence, will we be deluged with movies portraying the aughts as a time of toxic smart-phone abuse, American Apparel and people writing their own Wikipedia entries? It's easy to reduce a decade to its pop-culture sound-bites and trend topics when you have no memory of being complicit with them. Sneering is easy, compassion is hard.
[Photos: "MacGruber," Universal, 2010; "Hot Tub Time Machine," MGM, 2010]