Why we need better television criticism.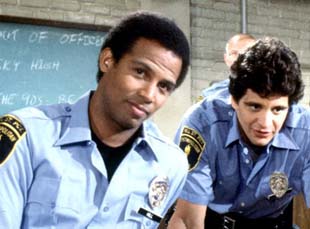 Posted by Vadim Rizov on
For the last decade, a lot of people became convinced that television, not cinema, is the future of filmed narrative. Over at N+1, Richard Beck takes a look at the landscape as it stands now, identifying a key moment in intellectual acceptance of TV — Joyce Carol Oates geeking out in 1985 over "Hill Street Blues," which she noted as "one of the few television programs watched by a fair percentage of my Princeton colleagues." As Beck points out, we live in a brave new world. Academia cares more about "The Wire" than probably anyone, and we can't stop hearing about how TV is the future.
Which raises a problem. Television may have entered its maturity, but TV criticism has not. The most ad hoc of the critical arts, it's probably the most overwhelming as well. Music critics have a lot to sort through and digest, but at least they have specialties, buzz and like-minded colleagues to confer with. TV, though, is an onslaught: anything and everything can be reviewed.
The amount of copy you can produce is directly proportional to how much you watch (more than any other critics, TV writers are also frequently required to act as amateur sociologists, even to the extent of that being their primary responsibility). And with all that going on, how in the world can you have historical perspective? Keeping up with the present is hard enough. The conscientious film writer — with only a 2,000 film canon to really master — is relatively easy off.
As magisterial as Beck's overview is, he still doesn't go back past the '80s. The implication is that everything on TV before the narrative serial is pre-history — which ignores, for starters, "The Prisoner," an unspeakably influential benchmark in the development of weirdness on TV, or the way racial discourse took a nap between "All In The Family" and "The Wire." And these are just rudimentary ABC's — digging further back and finding secret influences and forgotten landmarks needs to be done systematically as well.
More to the point: we're entering a time when TV criticism will be just as prevalent (or, alternately, just as endangered) as film criticism, and we have very few writers capable of taking the long gaze. (The AV Club's Noel Murray does heroic work, but he can't do all the lifting himself.)
TV writers are still largely untested. What we're going to need are a crop of writers who at least have seen the major shows of decades past and understand how they run into each other. If TV is indeed the new cinema, we need the writers to go with it.
[Photos: "Hill Street Blues," 1981-87, NBC; "The Prisoner," A&E Home Video, 1967-68]