Summer Preview: Anywhere But a Movie Theater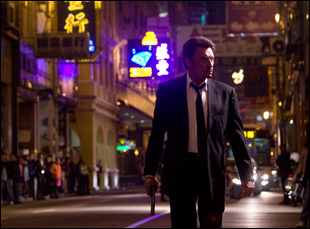 Posted by Stephen Saito on
As our theatrical calendar attests, there will be plenty of reasons to leave the house this summer. But for those times when you'd prefer to stay in, there's a wide array of American indies, international hits, and exquisite documentaries right at your fingertips on demand, online or on DVD. Here's what will be coming to your televisions, computer screens, Netflix queues and store shelves from May through July.
On Demand
As always, our sister company IFC Films will release some of the biggest festival favorites from around the world this summer both at theaters and on demand, allowing people to choose what size screen they want to see Johnnie To's actioner "Vengeance" (May 14), Ken Loach's soccer drama "Looking for Eric" (May 21), the Cillian Murphy-Brendan Gleeson gangster tale "Perrier's Bounty" (May 21), Mia Hansen-Løve's French family drama "The Father of My Children" (May 28), "Bronson" director Nicolas Winding Refn's Viking epic "Valhalla Rising" (June 4), the doc "Joan Rivers: A Piece of Work" (June 11), the incendiary Jessica Alba-Casey Affleck thriller "The Killer Inside Me" (June 18) and Agnès Jaoui's dramedy "Let It Rain" (June 25). Meanwhile, the Sundance Selects label will premiere "Convention," AJ Schnack's documentary about the 2008 Democratic National Convention, on May 12th before a New York run at the IFC Center in June.
Meanwhile, IFC Films will also exclusively debut plenty of international hits via VOD on their Festival Direct label, which will bring home Ryosuke Hashiguchi's drama "All Around Us" (May 5), the British "shockumentary" "The Possession of David O'Reilly" (May 5), "The Celebration" director Thomas Vinterberg's latest comedy "When a Man Comes Home" (May 12), the Joshua Jackson road trip drama "One Week" (May 19), and Caroline Link's follow-up to her Oscar-winning "Nowhere in Africa," the drama "A Year Ago in Winter" (June 11).
Magnolia Pictures has also scoured the globe for some of the best films around and will deliver five festival favorites to living rooms across the country a month in advance of their release dates in theaters through their Ultra VOD service. Things kick off with George A. Romero's latest zombie thriller "Survival of the Dead" (May 28), followed by Neil Jordan's "Ondine" (May 7), starring Colin Farrell as a fisherman who believes he hooks a mermaid in this fairy tale; the claustrophobic Spanish horror flick "[REC] 2" (June 4), the sequel to the film that inspired the American horror hit "Quarantine"; "The Extra Man" (June 25), the new comedy from "American Splendor" directors Shari Springer Berman and Robert Pulcini starring Paul Dano and Kevin Kline; and "Centurion" (July 23), a Roman action epic from "The Descent" director Neil Marshall starring Michael Fassbender and Dominic West, arriving on VOD well before its August 27th release in theaters.
Finally, there's a new kid on the block with Red Flag Releasing, which will be putting out the Sundance-selected doc "8: The Mormon Proposition," about the religious group's influence on the California referendum on same-sex marriages in 2008 (narrated by "Milk" screenwriter Dustin Lance Black), on VOD day-and-date with its release in theaters.
Those folks at Cinetic FilmBuff are no fools — just in time for World Cup season, they picked up the rights to the soccer doc "Pelada," which will debut on VOD on June 7th before being released online through iTunes and Amazon on Demand. Seen through the eyes of two college players who didn't make the pros, the film won raves at SXSW, Sarasota and IFF Boston for its look at the sport's impact throughout the world. It won't be the only sports-themed doc that Cinetic will be releasing this summer — tennis fans should take note of "Unstrung," a film about seven junior tennis players trying to make it to the next level, which will be released via iTunes and Amazon VOD in June, and Richard Linklater's ode to University of Texas baseball coach Augie Garrido, "Inning by Inning: Portrait of a Coach," that will arrive on Hulu in July.
Other exciting FilmBuff titles include "Icons Among Us," Michael Rivoira's thorough history of contemporary jazz featuring interviews with everyone from Herbie Hancock to Terence Blanchard to Medeski, Martin and Wood, that will debut on iTunes day-and-date with its DVD release on May 11th, followed by a cable VOD run in June before July, which will give way to the VOD debut of Aleksandr Sokurov's "The Sun" and the iTunes debut of Wong Kar-wai's "Fallen Angels" and "Happy Together." For further updates, you can follow them on Twitter.