Terry Gilliam is still lost in La Mancha.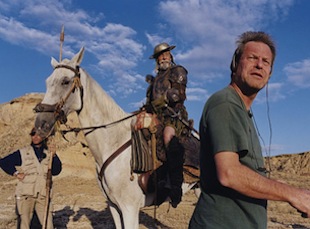 Posted by Matt Singer on
Interesting news out of Cannes: Empire reports that Ewan McGregor has been cast to replace Johnny Depp in director Terry Gilliam's latest attempt at mounting "The Man Who Killed Don Quixote," his long-simmering tribute to Cervantes. According to Empire's article, this "Quixote" begins shooting in September.
Gilliam has been trying to make the film for almost 20 years. He came closest in 2000, when he assembled a $32 million version starring Depp and French actor Jean Rochefort utilizing European financing. As chronicled in the tragicomic documentary "Lost in La Mancha" — which is available on Netflix Watch Instantly, by the by — the movie went into production and promptly fell apart.
"La Mancha" directors Keith Fulton and Louis Pepe chronicle every step of "Quixote"'s disintegration in heartbreaking detail. It starts innocuously enough, with extras unprepared for a scene. But then planes start buzzing over the location from a nearby bombing range. The next day, the sound of distant thunder ruins the audio. Soon after, threatening clouds roll in and lightning is not far behind. Then it rains. Then it hails. Then it hails worse. Then there are mudslides. Then pieces of the gear and the set begin to float away on rivers of mud. By the time the production dried itself off days later, Rochefort, battling an infected prostate, was too ill to get back on the literal and proverbial horse. Production was halted and eventually abandoned.
"Lost in La Mancha" contains a few glimpses of Gilliam's "Quixote," and they're enough to make you all the sadder that neither Rochefort — who will be replaced by Robert Duvall — nor Depp will be returning to the project. As this compilation of the few scenes Gilliam actually shot during the aborted 2000 production shows, Depp might have been onto something quite marvelous as a sleazy ad exec who finds himself stranded back in 17th century Spain and has to wrestle with a delusional "knight" and angry fish:
Though McGregor seems to be an odd replacement for Depp — the two don't share many similarities as leading men — my biggest concern isn't casting, it's this little nugget buried at the bottom of Chris Hewitt's Empire piece: "Gilliam also revealed that the budget of the movie will be around the $20 million mark, a far cry from the $35 million he had to play with in 2000." What Hewitt doesn't mention is the fact that the 2000 budget was, according to Gilliam's comments in "Lost in La Mancha," already scaled back by almost $10 million. In fact, part of the reason for the 2000 "Quixote" collapsed was due to the incredibly tight budget, which left the production zero wiggle room once problems began to arise. According to this news, Gilliam will now have to make due with a budget half as large as he originally intended over 10 years ago.
Those of us who love Gilliam admire the fact that he makes intensely personal films on the grandest scale. I suppose digital effects might hypothetically make "The Man Who Killed Don Quixote" a cheaper proposition than it was back in 2000. (They could also detract from the tactility of Gilliam's wonderfully mad visions, as I thought it did in his last film, "The Imaginarium of Doctor Parnassus."). But I worry that in trying to engineer blockbuster scope on a not-so-blockbuster budget, Gilliam is adding one more quixotic element to this endlessly troubled production.
[Photos: "Lost in La Mancha," IFC Films, 2002.]