Special message to Arizona, from "Machete."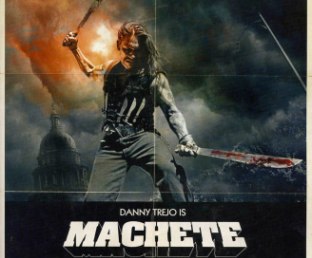 Posted by Brandon Kim on
Robert Rodriguez likes doing things when and where the urge strikes him, when the moment is right. It's why he was a cartoonist for a while, a fact to which he recently enlightened me. "You can take a blank piece of paper and create something within an hour that didn't exist before," he said, clearly passionate about the idea.
It's that kind of creativity that drives him I think. That's something you can plainly see in the 4am videos he shoots of himself and posts on youtube (what a player). And you can see it in this timely new Cinco De Mayo "Machete" trailer that Rodriguez and star, Danny Trejo just cut for the occasion. What was once a Mexploitation popcorn flick, is now a Mexploitation popcorn flick that's politically prescient.
Amazing. Arizona just fucked with the wrong Mexican, and an absurdly star studded cast, emphasis on the stud. Don Johnson, Steven Seagal, Jessica Alba, Michelle Rodriguez, Lindsay Lohan, and Robert De Niro. Cheech Marin and Jeff Fahey remain from the original, sweet. Everybody wants piece of Arizona it seems. From Ain't It Cool News. Rodriguez is working on scoring "Machete" now. The film releases September 3rd.
All the youtube links are going down. Thanks NY Daily News for the embed.