Shia's not shy about criticism.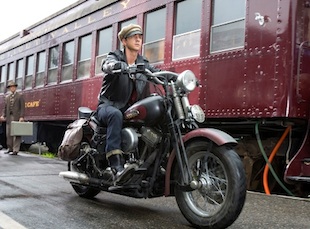 Posted by Matt Singer on
In Cannes promoting his new film, Oliver Stone's "Wall Street: Money Never Sleeps," Shia LaBeouf publicly criticized the last film that brought him to the glamorously carpeted steps of the Grand Théâtre Lumière, "Indiana Jones and the Kingdom of the Crystal Skull." According to The Los Angeles Times's Steven Zeitchik, LaBeouf opened up about his dissatisfaction with both his performance as Mutt Williams and with "Indy 4" as a whole. "I feel like I dropped the ball on the legacy that people loved and cherished," LaBeouf said. The "Transformers" star also singled out the infamous Tarzan-esque vine swinging sequence ("The actor's job is to make it come alive and make it work, and I couldn't do it. So that's my fault.") and added that Harrison Ford shared his view of the film ("We had major discussions. He wasn't happy with it either.").
I get a big kick out of LaBeouf's comments, and not just because I hated "Crystal Skull." (In fact, I thought the first two-thirds of it were rather fun; I'm with Shia on the Tarzan stuff though.) No, I'm particularly entertained because LaBeouf's being honest and candid at a time when honesty and candor are probably the least valued elements of film coverage. As a guy who's attended a lot of press junkets — the place where most of the interviews like the one between Zeitchik and LaBeouf happen — I can tell you: these are not places for probing, hard-hitting reportage. Mostly, they are the home to a cautious, anxious dance between filmmakers (looking to get the most and best publicity) and journalists (looking to get the most and best access). Video interviews rarely last longer than five minutes; print interviews longer than 20. There's danger on both sides: if actors say something dumb, it winds up all over the Internet; if reporters ask questions they're not supposed to ask, they find themselves uninvited from future junkets.
Though it's been decades since most reporters had unfettered access to stars, it seems like a few Hollywood actors are, like LaBeouf, beginning to grow weary of the Hollywood code of silence. Former "Grey's Anatomy" star Katherine Heigl has become almost as famous for her derogatory comments about her work as the work itself; she famously called "Knocked Up," her breakthrough from television to film, "sexist," and described her character as a "killjoy" and "a bitch." Earlier this year, Matthew Goode told The Daily Telegraph that his recent romantic comedy "Leap Year" was a "turgid" movie and a "bad job" that he took so he could "come home on weekends."
And it's possible that in speaking out, LaBeouf was taking a cue from his "Transformers" co-star Megan Fox who, while promoting "Transformers: Revenge of the Fallen" on "The Early Show" said of the movie, "I'm in the movie, and I read the script, and I watched the movie, and I still didn't know what was happening. So I think if…you see it and you understand it, I think you might be a genius." Fox also broke another unwritten rule during her eventful "Revenge of the Fallen" press tour: she publicly bashed her director, Michael Bay, comparing him to Hitler and Napoleon in a single soundbyte. (LaBeouf wisely tempered his criticism with several well-chosen, butt-kissing compliments about "Crystal Skull" director Steven Spielberg.)
Social media sites like Twitter are breaking down the publicist-erected wall between fans and stasr more and more every day; Jim Carrey recently drew headlines for criticizing Tiger Woods's wife Elin Nordegren on his Twitter account. All of these factors may force studios to tighten the reins on their talent even further. Personally, I'm hoping, somehow and someway, we get back to the days when a guy like Roger Ebert could write a story about Lee Marvin hiding other women's panties from his girlfriend and threatening to kill his dog.
[Photos: "Indiana Jones and the Kingdom of the Crystal Skull" Paramount Pictures, 2008.]