Seven great moments in financial panic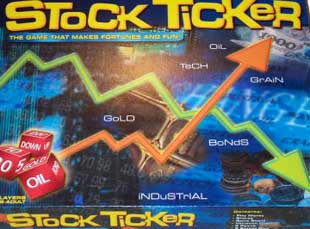 Posted by Vadim Rizov on
Last Thursday the Dow fell the most it's ever fallen in a single day, 1000 points in 16 minutes. People were understandably alarmed. What caused it? Human error? A computer algorithm? In dubious honor of the fact that no one knows anything when it comes to money, here are seven great moments in cinematic financial panic, cutting across all levels of society:
"American Madness" (1932)
Directed by Frank Capra
The title screams Oliver Stone, but "American Madness," when not indulging in moments of pure fantasy, is one of the most accurate looks at everyday economics in movie history. The fantasy part: Walter Huston's small bank succeeds solely because Huston can judge the character of his customers to know who'll repay their loans and who won't. (You can totally sympathize with the board of directors for wanting him to resign.) The realistic part: when Huston's bank is robbed it sparks a run on the bank that threatens to crash the entire financial system. Only when trustworthy souls make a big show out of depositing their cash does everything return to as it should be. But if you thought your bank was about to drag your savings down with you? "Holy Julias John," indeed. Whatever its flaws, this is one of the few films that sympathetically (and plausibly) takes the side of the institution.
"Thieves' Highway" (1949)
Directed by Jules Dassin
There isn't one key moment of panic in "Thieves' Highway;" it's more like the entire film sets about claustrophobically summing up what happens when every minute is money slipping away from you and the payment wasn't very big to begin with. When World War II vet Richard Conte returns home, he finds out his dad was crippled (both literally and financial) by a bad business deal with a shady produce tycoon (Lee J. Cobb, natch). Out for revenge, Conte trucks a massive load of apples to San Francisco to put the financial squeeze on Cobb. But the drive is more difficult than he anticipates, and every time Conte has to make a hard decision, he's torn between emotion and pragmatism, as if feelings of any kind automatically compromise a business plan. If you did have to single out one moment of pure panic, it would be when Conte's presumable fiancé Polly sees Conte's seedy San Francisco motel and realizes she's not ready for life at that economic strata. The other woman in the room doesn't help either.
"Boy" (1969)
Directed by Nagisa Oshima
Desperate times call for desperate measures. For one family in postwar Tokyo, that means throwing their young kid in front of cars, pretending he's been hit and then negotiating a settlement. In line with his standard agenda of showing off Japan as a carnivorously self-devouring environment, director Nagisa Oshima uses the family's deception as an indictment of the way an entire society forced their children to repeat their most blood-spilling mistakes. "Showing the beautiful natural scenery of Japan," the trailer promised; "listening to a boy's blood." For Oshima, the predetermined response to economic disrepair was a capitalistic frenzy of exploitation and "Boy" — although a touch didactic — remains both one of Oshima's most accessible movies and one of the more direct portraits of what happens when the extremes of economic despair hit and Darwinian instinct overrides morality.
"The Panic In Needle Park" (1971)
Directed by Jerry Schatzberg
Generally speaking, movies about down-and-out heroin addicts aren't very funny. Nonetheless, "The Panic In Needle Park" is about as buoyant as movies about life-threatening, self-destructive habits get. That's partly thanks to the energy of a young and still-unpredictable Al Pacino, whose tics and bellows of rage hadn't yet begun to calcify and set. When his relationship with junkie Kitty Winn starts going downhill, they have a brief but memorable fight. When she asks "Can we talk about something other than money for once?" he screams "I DON'T HAVE ANY FUCKING MONEY." This is the battle cry of every broke person, every day.
"A New Leaf" (1971)
Directed by Elaine May
Of course, junkies and dropouts weren't the only ones with economic trouble back in 1971. In the opening minutes of "A New Leaf" — a scabrous comedy badly in need of a DVD release — Walter Matthau, spoiled trust-fund brat and unlikely upper-crust patrician (the counter-intuitive casting is brilliant) discovers he's spent all of his money. What follows is a montage that never gets old: Matthau wanders through all of favorite haunts to get one last look at them. The restaurant, the social club, the tailor's; Matthau comes to all of them in his Ferrari, repeating to himself over and over "I'm poor" in the most piteous voice imaginable. Then he decides to marry a rich woman and murder her for her money, so it all works out.
"The Hudsucker Proxy" (1994)
Directed by Joel Coen
Forget "Wall Street." For straight-up corporate malevolence you have to turn to Paul Newman in "The Hudsucker Proxy," the most misunderstood and unappreciated film in the Coens' catalogue. Terrified at the thought of vulgar plebeians buying a controlling interest in Hudsucker Industries after company founder Charles Durning gleefully jumps to his death, Newman proposes installing a complete idiot (Tim Robbins) as the new president in order to drive shares down and maintain his own power at Hudsucker. This is panic as sheer greed and cynicism; the Hudsucker board seems to have taken lessons in business strategy from Zero Mostel and Gene Wilder in "The Producers." Their plan backfires for similar reasons, but it involves playing recklessly with a lot more people's money.
"Ocean's Thirteen" (2007)
Directed by Steven Soderbergh
"Ocean's Eleven" revels in the majestic faux-opulence of Las Vegas. "Ocean's Twelve" is an ode to the joys of casual European travel and well-tailored suits. But in "Ocean's Thirteen," Steven Soderbergh seems fed up with all the money being flashed around. He opens on a surprisingly grim note, with Elliott Gould bedridden with a heart attack after a deal with Al Pacino — calcified tics and all — goes south. From there, "Ocean's Thirteen" veers surprisingly close to Soderbergh's other films about life at the bottom of the economic ladder ("Erin Brockovich," "Bubble") and implicit class warfare ("Che"). There's an especially weird subplot where Scott Caan and Casey Affleck head down to Mexico and get so outraged by factory conditions they lead a strike for wages, complete with Molotov cocktails. It's a pretty unusual statement for a franchise built on surface level thrills, and it helps make "Ocean's Thirteen" a savage dismantling of the whole series.
[Photos: "Stock Ticker" board game manufactured by Copp-Clark Publishing; "American Madness," Columbia, 1932; "Thieves' Highway," The Criterion Collection, 1949; "Boy," Japanese New Wave Cinema Classics, 1969; "The Panic In Needle Park," 20th Century Fox, 1971; "A New Leaf," Paramount, 1971; "The Hudsucker Proxy," Warner Bros., 1994; "Ocean's Thirteen," Warner Bros., 2007.]