Scratching the Surface of the Seattle Film Festival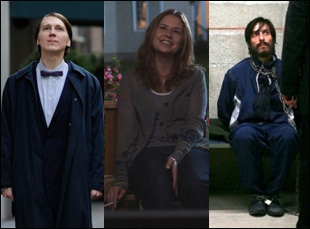 Posted by Stephen Saito on
When Seattle Film Festival programming manager Beth Barrett asked an audience Saturday, "Are you ready for 22 more days [of movies]?" I knew I was in trouble — I had little more than a weekend in the Pacific Northwest and I was barely going to make it into five percent of the 256 features they cram into three-and-a-half weeks.
There was some comfort in the fact that IFC.com has covered many of the films that will be playing Seattle in the weeks ahead — "Cyrus," "Every Day," "The Freebie," "Get Low," "Holy Rollers," "Howl," "I Am Love," "Marwencol," "Meet Monica Velour," "Monogamy," "Ondine," "Nowhere Boy," "Robogeisha," "Sex & Drugs & Rock & Roll," "Soul Kitchen,", "Tucker and Dale Vs. Evil" and "Winter's Bone" — to offer some direction. But the festival's unparalleled collection of foreign films when combined with American festival hits that have found success elsewhere make it appear intimidating at first glance.
Leafing through the city's alternative weekly The Stranger's "SIFF Notes" was a great deal of help, though it offered as much relief as when I used the yellow-covered study guides it emulated for "The Odyssey" in the ninth grade. The festival also has the nice touch of showing a trailer for another film at SIFF before every film, though that can only take you so far.
As far as previews were concerned, the best was not necessarily a guide, but Movie City News' Kim Voynar's love letter to her local film festival that accurately paints SIFF as, in a word that's popular up here in the Pacific Northwest, sustainable, even if it can be overwhelming.
Obviously, the best place to start was the opening night film was "The Extra Man," which seems to be the kickstarter of choice for the summer festivals (Nantucket will also screen it on June 17th). It's not hard to understand why. "American Splendor" directors Shari Springer Berman and Robert Pulcini return from their disastrous adaptation of "The Nanny Diaries" to play to their strengths with a starry cast (by indie standards) of Kevin Kline, Paul Dano, Katie Holmes and John C. Reilly for a comedy that's light on its feet, if not without a few missteps along the way.
Since the directing duo has always shown an affection for nostalgia even in their documentary days ("Off the Menu: The Last Days at Chasen's"), it was only a matter of time before they teamed up with Jonathan Ames, the author best known nowadays for creating HBO's quirky detective series "Bored to Death."
"The Extra Man" is based on Ames' second novel and, like his TV series, finds its main source of tension in a protagonist (Dano) who yearns for a bygone era of gentility as the reality of the modern day rears its ugly head. Having dropped out of contemporary culture long ago, Dano's Louis Ives skims alternative weeklies only for the sex ads in the backpages, not for perverse reasons, but to figure out who he is since he's long questioned his sexual identity.
In spite of the confusion, Ives can fairly identify himself as a true gentleman first, and along with his desperation to find companionship in one form or another, he is an easy mark for those who want to take advantage of him. Left only with a Pontiac Granville by his father, he is taken under the wing of his roommate Henry Harrison (Kline), who loves nothing more than to make use of it for his work as an "extra man" escort of upper crust octogenarian widows as, despite his air of pretension, Harrison can only "afford one working door" on his own car.
In return, Ives learns the literal ins and outs of Manhattan high culture, as Harrison sneaks him into the opera without paying and educating him in the ways of pleasing the rich geriatric set. (When Harrison describes the full package for an extra man — wit, intelligence, and uncommon joie de vivre, Ives can only mutter to himself, "I wish I had joie de vivre.")
Dano is quickly becoming the Bud Cort of his generation, a blank slate for auteurs to plunk down into a sea of eccentrics. Besides Kline's Harrison, he must contend with a mousy co-worker at an environmental magazine (a perfectly cast Katie Holmes) who doesn't reciprocate his affection for her and a shaggy neighbor played by John C. Reilly, nearly unrecognizable under a beard that puts Grizzly Adams to shame. Unfortunately, the underwritten character with an annoying falsetto proves to be one of the film's glaring weak spots.
However, Berman and Pulcini build a credible world of two New Yorks, where the high society haves are really have nots and the have nots have more than they know, even if both parties are blissfully unaware that their way of life seems to have no place in the here and now. It's wistful, to be sure (there's even a haughty narrator to punctuate the rather mundane details of Ives' life), but just like the land of oddballs and eccentrics that Ames initially envisioned, it's nice to think "The Extra Man" could carve out a little corner to call its own — Magnolia will be releasing the film on July 30th.