Ridley Scott and Russell Crowe, collaborators in anger.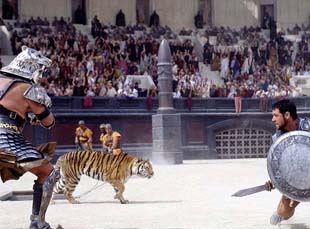 Posted by Vadim Rizov on
Some actor-director pairings are legendary: Anthony Mann and James Stewart, François Truffaut and Jean-Pierre Léaud, Federico Fellini and Marcello Mastroianni, Martin Scorsese and Robert De Niro, Tim Burton and Johnny Depp, Tsai Ming-liang and Lee Kang-sheng.
To that illustrious list, we have lately been invited to add another pair: Ridley Scott and Russell Crowe. At first, the idea seems too spurious to even think about. And yet…
To date, Scott and Crowe have collaborated five times: "Gladiator," "A Good Year," "American Gangster," "Body of Lies" and the new "Robin Hood." Asked recently to comment on their partnership by the Telegraph, Scott responded "He's angry all the time and I'm angry all the time as well" (which presumably makes for a fun set).
On Tuesday, New York's Vulture blog detailed how this earth-shattering collaborative team nearly fell apart during "Robin Hood"'s protracted script development process ("Their familiar bonhomie had been replaced by frosty, terse exchanges."). It's not quite "The Bonfire of the Vanities," but it's amusing.
Yet despite Scott's answer — which I suspect has an ugly grain of truth within its flippancy — it's still unclear what the pair bring out of each other. When a director and star team for multiple outings, it means that you're obligated to turn off that nagging voice telling you that it all seems overfamiliar and consider how the variations being spun on a persona enrich every subsequent film, and also that the director's concluded the actor in question anchors their work in a way no one else can.
That said, there are different functions specific to each relationship. Mann got to make some of the more radically unsettled and unnerving Westerns of the '50s under the cover of Stewart's presumably calming presence, while Stewart got to darken his persona (something he conscientiously did every time he got the chance). Léaud and Kang-sheng serve as naked alter-egos for their directors.
De Niro embodied the kind of fierce energy and violence Scorsese was generating behind the camera. As for Burton and Depp, it seems like the visually oriented Burton relies on Depp to take care of the performance heavy lifting so Burton can do what he does. (Bill Murray has apparently taken on the responsibility of being Wes Anderson's personal mascot; could be worse.)
Which leads us back to Scott and Crowe. Crowe's a rock of smoldering intensity, but he's proven to be far less versatile an actor than one would initially expect, while Scott is hung up on his colors, action set-pieces and — increasingly — a tone so portentous you'd think he was offering up moral instruction instead of wanly-received action movies. Who's benefiting from these repeat outings? Not the audience, certainly.
[Photos: "Gladiator," DreamWorks, 2000; "The Naked Spur," Warner Home Video, 1953]