"Sex and the City 2": Ladies and gentlemen, THIS is why they hate us.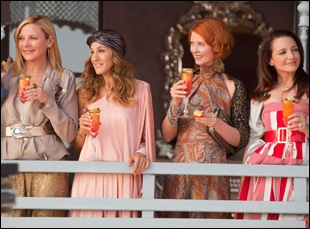 Posted by Matt Zoller Seitz on
A friend describes the "Sex and the City" films as "Ladies' 'Star Wars.'" The description isn't far off the mark — not just because the TV series and the spinoff films are critic-proof revenue-generators, but also because Carrie Bradshaw (Sarah Jessica Parker) and her gal pals inhabit a universe so far removed from anything resembling reality that it might as well be science fiction.
Picking up where the second film left off — as if there were a story! — "Sex 2" revolves around Carrie's two-year-old and suddenly troubled marriage to the twice-divorced older hunk, Big (Chris Noth). And of course it features perfunctory detours into the lives of Carrie's best friends, Samantha (Kim Cattrall), who's over 50, still sexed-up, and ingesting dozens of vitamins a day; Miranda (Cynthia Nixon), who's struggling with a sexist boss and the demands of the domestic life that her work life forces her to neglect; and Charlotte (Kristin Davis), who's feeling beaten up by her life as a mom and worrying that her husband is about to have an affair with their big-titted Irish nanny.
But really — surprise! — the film is all about the clothes, the food, and the real estate. Aside from a couple of moments that briefly remind you of the character- and acting-based charm that redeemed the series — for instance, Miranda and Charlotte's drunken admissions that a lot of the time, being a parent flat-out sucks — this film, like its predecessor, buries the smoldering embers of its nearly extinguished humanity beneath a mountain of gaudy baubles.
The ladies model hyper-expensive, often stunningly tacky dresses, shoes and hats (including a Carrie chapeau that looks like a smashed popover made of wicker), dine in expensive restaurants, drink at hip bars, and lounge around apartments that are characterized in dialogue and voice-over as modest even though they're big enough to house the mother ship from "Close Encounters." (Carrie's closet in the apartment she shares with Big has a center aisle wide enough for a comfy bench.)
And at the 40-minute mark, writer-director Michael Patrick King ratchets the excess up several notches by sending the gals on a trip to Abu Dhabi, where Samantha has been invited on an all-expenses-paid fact-finding mission to help a sheik craft a PR campaign for his a luxury hotel. Everything — plot, characterization, simple exposition — ceases for several minutes so that Carrie and friends can be presented with fabulous bedrooms, a fabulous private bar, a fabulous kitchen, and fabulous hunky man servants and luxury cars. (Although these scenes take place in the United Arab Emirates, they were shot in Morocco. But they still constitute what might be a movie first: product placement for a country.)
Like the characters' customary melodramas back in the States, only more so, the Abu Dhabi folderol is inoculated against any possibility of real discomfort, however comic and momentary. Except for a few fleeting touches, such as Charlotte's disclosure that she's decided not to use her married name, Goldenblatt, on this trip, the movie erects (ahem) a wall between the ladies and their far-away playground, providing the women with a team of visiting Australian soccer players to ogle, giving Carrie a visiting (white) American ex-boyfriend to flirt with, and contriving a romance between Samantha and a Dutch tycoon named Dick Spyrt. (God forbid that nice American girls should get it on with beautiful Muslim boys!)
The final comic setpiece — which finds the heroines escaping faux-peril in a bazaar by dressing in burqas — is indeed offensive, not because Abu Dhabi has been characterized as a huge adult amusement park for rich, Botoxed white ladies (that's how "Sex and the City" treated New York, remember?) but because of the moment when the film diminishes the complex and culturally deep-rooted gender apartheid of fundamentalist Muslim society by having a group of Muslim women strip off their traditional garb to reveal Carrie-approved Western haute couture underneath. As lighthearted sight gags go, it's a few degrees removed from the moment in "Full Metal Jacket" when an officer declares that inside every gook there's an American trying to get out.
Stung, perhaps, by complaints that the first "Sex" film was aggressively insensitive to American financial hardship circa 2008, the sequel peppers its dialogue with references to financial struggle. But from my perspective (and a lot of people's, I'd wager) they're "struggles" on par with trying to find a parking spot on a busy avenue during lunch hour.
Carrie tried to sell her amazing bachelorette pad, but she couldn't find a buyer, so she had to keep it (and it comes in handy when she decides she needs to escape Big's passive-aggressive homebody sourness). We also learn that Carrie and Big traded their penthouse apartment for a seemingly identical-sized place a few floors lower in the same building. The horror!