Connecting Ridley Scott's color schemes, from his commercials to his films.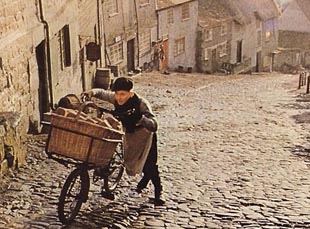 Posted by Vadim Rizov on
By his own estimation, Sir Ridley Scott has directed over 2,000 commercials — valuable training for his career as a visual stylist and a trail-blazer in the field of commercials directors who transitioned over to the movies. That's an enormous body of work, but the stylistic transitions from each decade are surprisingly consistent. In the '70s, Scott did earth-tones, in the '80s, he did neon, and after that, he pretty much did anything that would stick.
Scott's biggest commercial from the '70s is the Hovis bread "Bike" ad, which readers of the Independent voted their favorite commercial of all time in 2006. Viewed without any nostalgia or context, it's a hokey piece of work — in a far-off time that never was, a young lad pushes a bike up cobblestone streets while the voiceover mutters something about delivering bread to "ol' Ma Beggarty's place" while the "New World" symphony plays, conflating magical old Britain with a symphony designed to evoke America. Here it is:
At that point, Ridley Scott was a British director, something driven home by "The Duellists," his 1977 feature debut that follows similar visual guidelines. At the time, it was noted for conspicuous stylization, but it's got nothing on what was to follow — the colors of the outside world bear an actual resemblance to what the world actually looks like. Once he left, his work would never be as self-consciously earthy or faux-naturalistic:
1979's "Alien" elevated Scott to a whole new level, but it wasn't until he discovered neon that he found his signature look. "Blade Runner" set the standard for what the future looked like circa the '80s, and it connected the dots between the rising business specter of Japan and a particular aesthetic (which Scott took it even further with 1989's "Black Rain," aka "Michael Douglas vs. The Yakuza").
This was the point when Scott's work was actually about something, and some of his most prominent commercials from the period are very clear on this. 1985's famous "Pepsi: Choice of a New Generation" ad practically looks like an outtake, and even more so the cavernous gloom of a 1986 ad that never saw TV about budget deficits. In the future, we will all live in neon-lit colonies of Japan.
After "Thelma and Louise," Scott's work became less distinctive — not just in the floptastic period of "White Squall" and "G.I. Jane," but even in his alleged '00s comeback. The difference is a visual one as well. In the '70s and '80s, Scott's lighting was, as they say, "motivated" — you could tell where all the colors were coming from within the set. The commercials are similarly random:
After that, it's all kind of random, dependent more upon whatever allegedly looks the most cool. I have no idea why the opening battle scene of "Gladiator" is so blue; my only guess is that Sir Ridley decided to follow the lead of his brother Tony ("Top Gun," "Deja Vu"), the king of unmotivated color palettes. In any case, it hasn't done his work any favors.
[Photo: The "bike" ad, Hovis, 1973]