Repertory cinema's self-perpetuating cycle.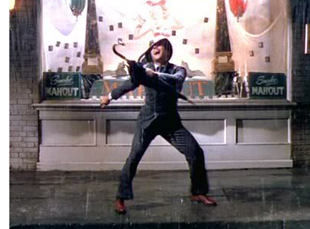 Posted by Vadim Rizov on
After some uncertainty in its opening stages, the inaugural Turner Classic Movies Film Festival held in Los Angeles at the end of April went off, by all available accounts, with great success. At The House Next Door, Dennis Cozzalio goes long on his time there, in the process tangentially collating a nice portrait of what going to repertory cinema is like these days.
There is much to think about in the piece, although most of them stem from seemingly immovable facts: New York and L.A. are havens of repertory cinema where dedicated cinephiles have to flock for sustained rep cinema; any screen star, no matter how octogenarian or nonagenarian, is a bigger draw than the actual film; there are always forgotten movies from deep within the studio vaults that are as good or better than the established classics, which in most places consist of "the occasional showing of 'The Wizard of Oz,' or 'Singin' in the Rain' or (shudder) 'Grease' on an outdoor screen at some city-sponsored summer family-oriented gathering." (Add "The Big Lebowski" to the list.) Film history is also finding itself constantly rewritten, both in anecdotal history and scholarly form, by rep viewers.
Comprehensive as it is, there's pretty much only one thing Cozzalio doesn't touch upon. It's pretty certain that if you're an aficionado of the most demanding contemporary formalist filmmakers out there — the ones that attract rabid fans, festival attention and typically little financial reward — you are almost certain to be very serious about film history as well. However, the converse isn't true: there's definitely a certain kind of rep viewer that's unapologetically nostalgic in outlook and has no interest in the present day. In fact, one of the reasons rep cinema isn't more pervasive could have to do with the musty aura and self-perpetuating air that can surround the more esoteric rep screenings, where there's always more discoveries and obscurities to sort through.
What Cozzalio's piece records is that young kids are, in fact, showing up to rep cinema as long as it's attractively packaged as an "event," something to build your weekend around. And this logic basically works for every film festival in the world when it comes to packing the locals in. But it'd be great if these people weren't just interested in "old movies" as a genre, but as a gateway for all the viewing options they might not even know about. The TCM Festival is, of course, restricted to the past, but it
suggests a potentially closed loop of cinephilia where compulsive sifting for new discoveries in back catalogs results in an ignorance towards what's going on in the here and now — something that needs to be addressed if new audiences are to be found.
[Photos: "Singin' In The Rain," Warner Home Video, 1952; "Grease," Paramount, 1978.]