"Red Scorpion," a Jack Abramoff production.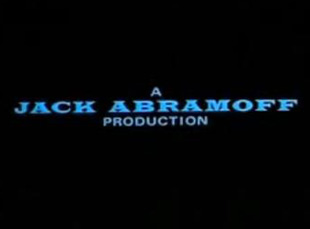 Posted by Matt Singer on
The 1989 Dolph Lundgren vehicle "Red Scorpion" is the sort of movie you'd channel surf to at 2am and flip away from instantly. At first glance, it looks like any other mindless action film. You'd never give it a second thought, unless you happened stumble on it as this credit appears on the screen: "A JACK ABRAMOFF PRODUCTION"
Jack Abramoff? The disgraced American lobbyist currently serving a prison sentence for conspiracy, fraud and tax evasion? Could it be? It can be. It is.
After Abramoff served as National Chairman of the College Republican National Committee and before he came one of the most powerful lobbyists in late 1990s and early 2000s Washington D.C., he tried his hand at the movie business. As outlined in an article by ">James Verini for Salon, Abramoff, a child of Beverly Hills, formed a production company with his brother Robert and dreamed up an '80s action spectacular that would operate as a thinly veiled anti-Communist screed and as propaganda for the sort of African rebels Abramoff had supported with the College Republicans.
"Red Scorpion" makes a brief appearance in Alex Gibney's exhaustive new documentary on the Abramoff scandal, "Casino Jack and the United States of Money," which is opening this week. The film's talking heads point out the similarities between the film's fictional nation Mobaka and the real Angola, and between the film's heroic freedom fighter Kallunda Kintash (Al White) and the public image of Jonas Savimbi, an Angolan warlord who's one of the stars of the Democratic International, a real-life convention of freedom fighters engineered by Abramoff and his conservative allies as a means of promoting the Reagan Doctrine in Africa. Gibney also observes how Abramoff, a former champion powerlifter, engineered a story beat where Lundgren powerlifts a jeep to save his friend. Don't let the mumbling, flop-sweated Swede and the bargain basement action sequences fool you: for producer/co-writer Abramoff, this was a deeply personal film.
Divorced from its connection to Abramoff, "Red Scorpion", directed by Joseph Zito, is little more than a compilation of themes and scenes from other better entries in the genre from "Rambo: First Blood Part II" to "Commando." The story is essentially "Dances With 'Red Scorpion.'" Lundgren plays Lt. Rachenko, a loyal Soviet soldier ordered to get close to Kintash in order to learn the location of a rebel stronghold. After he fails in his mission, Rachenko's cruel superior orders his torture and execution, whereupon Rachenko escapes, takes up with some Bushmen, learns the beauty, serenity, and purity of African tribal culture, then protects that beauty, serenity, and purity by blowing up a large chunk of it, along with plenty of evil, evil (EVIL!) Russians.
Even as propaganda, "Red Scorpion" is a bit confused. Every single Russian and Cuban soldier in the film is portrayed as being pure, uncomplicated, Hitler-doesn't-look-so-bad-in-comparison evil; every one, that is except Lundgren, whose heroism dilutes the intended message that the only good Soviet is a dead one. Then again, by the end of the film, the only Russian who's not dead is the only good one, and he only sees the error of his ways after he's brutally tortured with needles. This movie doesn't advocate the torture of Communists with needles and the extermination of anyone who doesn't use needle torture as a gateway to pro-USA feelings, right? Right?
Gibney's film only has time to share a few clips and doesn't even touch on Rachenko's reluctant sidekick, an American journalist played by M. Emmet Walsh. When Rachenko makes a snide remark about Walsh's salty language, the American launches into a pro-freedom of speech rant. "As a matter of fact, in America, an American can swear whenever, wherever, however much he fucking well pleases!" he boasts. Anyone who's seen Abramoff's profanity-laden emails about the "motherfuckers" he bilked for millions in fees knows just how dearly he loved that freedom.
Ironically, it's Walsh's journalist who serves as Abramoff's anti-Communist, pro-liberty mouthpiece. Decades later, journalists were the ones to finally expose Abramoff's crimes. Anyone who watches "Casino Jack" and learns the full extent of his sordid deals will be able to relate to another of Walsh's lines: "I now know the meaning of true loathing."