"Red Dead Redemption" is More Than Just "Grand Theft Alamo"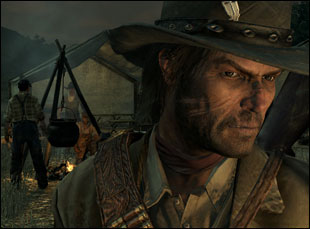 Posted by Evan Narcisse on
More than any other game developers working today, Rockstar Games mines the cinema for their inspirations. The heavy hand of Scorcese (and I'd argue Michael Mann, too) hovers over the Grand Theft Auto series. The Houser Bros. don't talk much to the media, but when they do, it becomes clear that their sensibilities are more filmic than gamer.
Some years ago they took a big risk and turned Walter Hill's cult gang drama "The Warriors" into a big budget video game, which further attests to their film-love. When "Red Dead Redemption" was announced a few years back, it seemed that players would be getting a highly, stylized playable version of Sergio Leone's spaghetti gunfighter oeuvre.
But, with RDR, Rockstar's doing more than reconstituting the DNA of their favorite cinematic influences in playable form. "Red Dead Redemption" reconfigures expectations as to what an open-world game — which generally have no set mission structure — will look and feel like.
GTA games trade in dissonance. The cities that Rockstar has built run off a loop of noise, distraction and chaos. RDR's vistas are the polar opposite — and might even unnerve players with how quiet they are. Quiet doesn't equal orderly, though. A gallop along the brush could lead you to a stand-off at a bandit hide-out or into a pack of rabid coyotes that you'll need to put down.
With "Redemption," players get the most wide-open virtual vista that any developer's ever delivered, and is packed with more varied activity than anything Rockstar's ever done. Reams of contextual dialogue get muttered as you pass by, hinting at a simmering social fabric filled with gunmen, whores, hucksters and just plain folks who all make the world feel rich.
Into this world steps John Marston, a surprisingly thoughtful reformed bandit who's being strong-armed by lawmen into hunting down his old gang. Marston's being forced to play along because the feds are holding his family hostage. One of the more striking things about RDR is how effectively it transmits the idea of strangerhood. Even when tough-gal rancher Bonnie McFarlane saves your life, Marston doesn't go spilling his guts. He stays aloof.
Even while you're tipping your hat and howdying every person you meet, you're still an enigma. And when you're riding down a night road, your apart-ness from the rest of the world makes the interactions available to the player feel even more chaotic or unsettling. You can sidle up to anonymous campers and listen to them spin their tales, wandering off quietly without saying a word.
Or a panicked rider can flag you down to help stop his innocent friend from being lynched. Hopeful treasure hunters can be waylaid by ne'er-do-wells and you, a total stranger, might be their only hope to surviving the encounter. Depending on what you do in these instances, your reputation can grow in fame and honor, so that you become a Legend of the West like Billy the Kid or Jesse James.
With the setting of the Old West, a lot of the tricks that Rockstar have used in the GTA games just won't work. You can't use the cacophony of the modern day to create a sense of atmosphere. No bubbling urban verbosity or airwaves filled with demented deejays.
"Red Dead Redemption" proves, impressively, that the developers don't need them. The big-sky tableaus and small boomtowns of a young, raw 20th Century make for a quieter world with different tensions and dangers. Fending off coyote attacks and taking out cattle rustlers shouldn't feel the same as car chases and drug deals, and it's one of RDR's strengths that they don't.