Real estate bargains: the Amityville house of horror.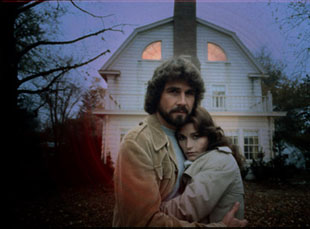 Posted by Vadim Rizov on
Has life been a little dull of late? Are the days too long, hot and uneventful? Do you long for the kind of excitement that can only come when you're being pelted with green slime and crucifixes are revolving? Do you feel like relocating to Long Island? You're in luck: the original "Amityville Horror" house is up for sale; it's been remodeled, and for $1.15 million it can be yours. Act now!
Five years ago, Manohla Dargis noted in a review of "Dark Water" that it was essentially "a horror movie about being shut out of the Manhattan real estate market"; Jennifer Connelly's trouble starts when she has to move to (oh no!) Roosevelt Island. At least she didn't have to move into The Dakota — where Mia Farrow got satanically impregnated in "Rosemary's Baby," uneasily foreshadowing John Lennon being gunned down there 12 years later.
There's something about the horror genre that seems intricately tied up with the idea of real estate turning on you, be it for supernatural reasons ("Poltergeist" or, more recently, "Paranormal Activity") or just because some random psychopaths are inexplicably trying to kill you ("The Strangers").
The horror comes to you, which is a fairly recent development. Up until "Psycho," being scared and stalked could happen anywhere. (Remember the golden rule of vampires: you have to invite them into your house before they can enter.) I'd peg "Halloween" as the moment more and more horror films became about blameless people finding their domestic spheres invaded (which surely has more than a little to do with the '70s general feeling that society was getting lawless and brutal).
The secret subtext, then, of many horror movies is — real estate, what it means to earn enough money to be a homeowner, the rigors and stresses of finding a locale, moving your family there, maintaining the place and trying to make sure your family doesn't fall apart. That's the real horror: that it can fall apart, with all that money and emotional investment gone to waste.
In any case, best of luck to whoever ends up in that house. You're probably going to need it, if only to ward off tourists with cameras.
The "Amityville" trailer:
[Photos: "The Amityville Horror," MGM/UA Home Entertainment, 1979; "Halloween," Compass International Pictures, 1978]