"Queens of Country," Lizzy Caplan, Ron Livingston, and Tool's Maynard James Keenan.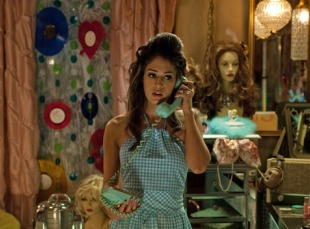 Posted by Brandon Kim on
I was holding out for Dolly Parton but the cast of "Queens of Country" looks pretty good all the same in these just released production stills from the independent comedy. The film, halfway through shooting as of this post, stars Lizzy Caplan ("Hot Tub Time Machine," "True Blood"), Ron Livingston (Office Space, Band of Brothers") and Tool's Maynard James Keenan plays the villain, Bobby Angel.
Caplan plays the hottest girl in a small Arizona town (actually shot in places like Carefree, AZ population under 4,000) who finds an iPod filled with the country stars she idolizes. She then embarks on a misadventure trying to find the owner, believing him to be her soul mate.

Lizzy Caplan in "Queens of Country"
Previously, director Ryan Page described the character and her obsessions, "Dolly, Loretta, Patsy, Wanda Jackson. She even dresses like them. She is totally obsessed…. She is a line-dancing champion. She is also in love with herself. She is infatuated. She masturbates to her own image in the mirror."

Ron Livingston and Maynard James Keenan as Bobby Angel looking real pale
on the set of Queens of Country.
My first lewd thought was, "Perfect. Lizzy Caplan touching herself to Jolene." I didn't know then that was her character's name too. Nice. Her bedroom looks like a thrift store in Austin.

Lizzy Caplan as Jolene Gillis.

Ron Livingston as Rance Gillis on the set.
Is it just me or is Ron Livingston amusing just to look at? That bodes well. I'm not sure how I took him seriously in "Band of Brothers," but I sure like him. The official line being passed around about the film is that it's "a heartwarming and hilarious adventure of mistaken identities, ATVs, line dancing competitions, kidnappers, time machines and doppelgangers all leading up to one of the most surprising twists since The Crying Game."
Oh, "Queens of Country," double entendre! Wait, time machines?