Playing games with Omar Sharif.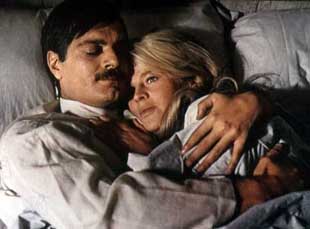 Posted by Vadim Rizov on
This isn't precisely news, but if you're in London looking for something to do Saturday night, and have between £100-365 to spare, you could do worse with your time than attending the 10th Annual Omar Sharif Poker & Backgammon Tournament. The low-end price gets you food, drink and spectatorship; the full buy enters you into a charity tournament. In any case, you'll be at a club (in both senses) featuring a large statue of copulating Greyhounds. And you'll be gambling with Omar Sharif! What could be more exciting?
To promote this event, Sharif has given a brief but delightful interview in which he basically says he only cares about sports and opera. As for movies, he almost never sees any: "I choose it carefully, because I must be sure that I will like it!" He's seen three "wonderful movies" in the last 30 years: "E.T.," "Billy Elliot" and "Amadeus." Something he does have the time to watch regularly is Larry King. It's a spectacular display of disinterest in everything except the finer things in life which, in his case, mostly means gambling. Sharif is well known as a bridge player, though he claims in recent years to have sworn it off. At his peak, he had bridge games on multiple computer game platforms, co-wrote a bridge column and got in an argument with a Paris roulette croupier. He also disapproves of American policy in Iraq and claims to have spoken with W. about it. His mustache remains, after all these years, resplendent.
What I'm saying here is that it's time to officially declare Omar Sharif a cultural punchline, the same way, say, Tim Burton valorized Tom Jones in "Mars Attacks!" or The Monkees ran through Victor Mature's hair in "Head." For a guy who essentially was only globally famous and respected for seven years (from his "Lawrence of Arabia" break-out in 1962 up through "Funny Girl" in 1968) and who spent most of his career in films like 1980's "Oh Heavenly Dog" and 2008's "10,000 BC," he's still remarkably famous. Like Jones and Mature, he's a man whose image is so dated it's actually become kind of charming. He's too strange to imagine persisting as a real star; his particular brand of touchy charisma and brooding masculinity was always close to self-parody, and now he's just odd. He apparently has no sense of humor about himself and is very proud of his mostly unremarkable work. His persistence is inspiring.
Here's Sharif promoting one of his poker products in 1987. It's uncomfortably awkward viewing. And yes, they play "Lara's Theme" from "Doctor Zhivago" (just out on Blu-Ray, by the way):
[Photos: "Doctor Zhivago," Warner Home Video, 1965; "Mars Attacks!," Warner Bros., 1996.]