The disingenuousness of Jafar Panahi's right-wing advocates.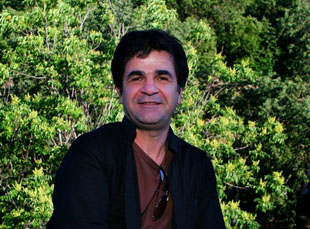 Posted by Vadim Rizov on
It is very, very good news that Iranian filmmaker Jafar Panahi is out of jail, and equally good news that Godfrey Cheshire (who knows way more about Iranian cinema than almost anyone) has weighed in on the matter at Salon.
The most heartening part of his piece? A quote from Jamsheed Akrami, a film professor in contact with Panahi and family, who thinks the Iranian regime might be so embarrassed he "wouldn't be surprised if there is no trial at all." Of course, many Iranians are in jail without the advantage of being globally famous. But it's something.
The taking up of Panahi's cause by the right wing entertainment site Big Hollywood was unlikely but welcome, a rare case of a website that doesn't hesitate to basically label everyone "leftist propaganda" doing something constructive. But they're doing it for the wrong reasons. And now that Panahi's free, this is a good time to talk about it.
Everyone's aware that lately Islam is more of a hot-button issue than usual. Through no fault of his own, Panahi became the prototype of Brave Filmmaker Standing Up To Dangerous Islamic Regime — which is true, but so reductive it doesn't even begin to address the real issues at stake here.
I have no idea what Panahi's religious views (if any) are, but I suspect they don't include, say, thinking you can make a courageous intellectual stance by participating in "Draw Muhammed Day." But in the Big Hollywood universe, it's the same thing. One day you're standing up to the terrorists by going on hunger strike, the next you're shooting off your mouth about the evils of Islam and posting JPEGs.
Here's the problem: we need people to stand up and make a ruckus when this kind of thing happens (although the fact that this is, post-USSR, once more a "kind of thing" is deeply saddening), no matter where they're coming from. But let's not lose sight of the fact that Jafar Panahi isn't a symbol — he's a director from a country whose best and brightest are regularly refused entry into the US because Homeland Security seemingly has no clue who they are, or how to tell one Iranian from another. And I'm dead certain that these same conservative advocates would approve.
Just keep that in mind: many of these people agitated about Panahi could care less about him as a director or person or representative of a larger film culture. And with that mentality, one day you wake up and feel it necessary to endorse "Sex and the City 2" for criticizing Islam.
[Photos: Jafar Panahi via Wikipedia commons, Magnus Manske/Martin H., 2007; "Sex and the City 2," Warner Bros., 2010]