Oliver Stone: talking points vs. incoherent brilliance.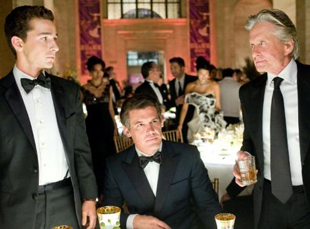 Posted by Vadim Rizov on
Oliver Stone is making headlines again with the Cannes premiere of "Wall Street: Money Never Sleeps," which is receiving generally unkind reviews (including this one, from Indie Eye contributor Anthony Kaufman). For fans of "JFK" and (more controversially) "Nixon," Stone's long, precipitous decline from unignorable firestarter to HuffPo talking points regurgitator has been rather unpleasant to watch: he's gone from stirring people up to preaching to the choir. Regardless of how interested you still are in the "Wall Street" sequel — it sounds impressively of the moment if nothing else — there's no chance that, say, Barack Obama is going to weigh in on it.
Such was not the case in 1991, when Stone dropped "JFK" and the world briefly went crazy. "JFK" was so compelling and attention-demanding that even George Bush briefly felt it necessary to back up the Warren Commission. Stone's stated intention was to create a "counter-myth," one that would get at "the true inner spiritual meaning of an event." In other words, "JFK" isn't just a spitball PowerPoint presentation of facts, but an attempt to probe and poke at cultural trauma.
"JFK" came three years after Don DeLillo's "Libra," a novel pivoting around Lee Harvey Oswald that presented its own powerful counter-myth, one in which Oswald isn't just his own self-proclaimed patsy but a man who constantly envisions himself as a man who intersects with history. In military jail, he thinks of himself in those terms: "He tried to feel history in the cell. This was history out of George Orwell, the territory of no-choice. He could see how he'd been headed here since the day he was born."
Allegedly, Stone tried to block an adaptation (something he denied), but he needn't have bothered: the book's basically unfilmable, and in any case Stone and DeLillo weren't really worried about the same things. DeLillo builds to the moment of assassination: Stone is always looking back at it, wondering what it did to people of his generation. DeLillo sees history building to a head by men convinced they're agents of destiny; Stone sees history as entropy and uncontrollable darkness. How it happened is less important than how it lingers.
What both had in common was the willingness to create a counter-myth out of conjecture. The brilliance of "JFK" lies in its ability to engage even when it's contradicting and doubling in on itself: it doesn't make any sense except culturally, getting inside the ways in which the events of November 22, 1963 warped the American psyche. You're right there, struggling alongside Stone.
"Nixon," though more flawed, goes even further in this direction. The ghost of JFK looms heavy here — never clearer in a shot near the end of a now-disgraced Nixon standing in a darkened room while a portrait of JFK glowers behind him — but Nixon is also portrayed as a product of a post-assassination machine of vague, dark forces operating with Pynchonian shadowiness. Nixon is both a man and a tool: "You couldn't stop it even if you wanted to, could you?" a young protester yells at him, and that's true to Stone's vision. He can sometimes go Too Far — it's hard to swallow the scene where Chairman Mao informs Nixon they're both motivated by the same sickness — but again, he's grappling with a political moment whose cultural significance is more in its lasting resonance than the oft-labyrinthine details.
What's wrong with "W." — and, by all reliable accounts, "Wall Street: Money Never Sleeps" — is that Stone's gone from grappling to asserting. He has the facts and he's going to fire them at you: it's a history of flat assertions and statistics, researched and presented in argumentative form. The claim of "W." is that Stone has Figured It Out, when, in fact, he was bluffing: it's pop history unfolding inside a vaccuum, disconnected from any sense of public impact. Time and distance is called for, but Stone seems to think he's ready to explain events in real time. But that's not where his genius lies (or lay, anyway): it's in picking apart the events as they metastasize into traumatic myth.
[Photos: "Wall Street: Money Never Sleeps," 20th Century Fox, 2010; "JFK," 1991, Warner Bros.; "Nixon," Buena Vista, 1995.]