NBA Movies: Where Amazing Rarely Happens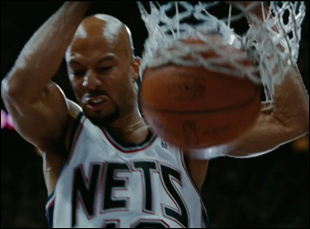 Posted by Matt Singer on
The New Jersey Nets finished the 2009-2010 NBA season with a record of 12 wins and 70 losses, good enough — well, bad enough — to rank them amongst the worst teams in league history. The New Jersey Nets of the new film "Just Wright," on the other hand, are playoff contenders, thanks to the play of their star point guard Scott McKnight (Common). In other words, "Just Wright" is a ludicrous fiction, which puts it squarely in the dubious tradition of films set in and around the National Basketball Association. Movies about the NBA are, at best, wildly unfaithful to the realities of the pro game and, at worst, strange concoctions of mediocre hoops and outlandish and sometimes downright bizarre storylines. While we patiently wait for someone to make the "Slap Shot" of pro basketball — or at least release the long-unavailable "The Fish That Saved Pittsburgh" on DVD — let's take a look at five other movies featuring the "real" NBA. (NOTE: Spoilers ahead.)
"Like Mike" (2002)
Directed by John Schultz
Made "in association" with NBA Entertainment, this innocuous kids film is the basketball version of "Rookie of the Year," where an adorable scamp gains magical athletic abilities and becomes a pre-pubescent pro athlete. In "Like Mike," that scamp is Calvin Cambridge (Bow Wow), an orphan who finds a pair of magical sneakers that may or may not have belonged to Michael Jordan. When given the opportunity to lace up for a halftime stunt game of one-on-one with NBA star Tracey Reynolds (Morris Chestnut), he not only takes Reynolds to the hole, but subsequently winds up with a contract to play as his teammate for the lowly Los Angeles Knights. I can't decide what element of this story is more ludicrous: the idea that a bolt of lightning could give sneakers superpowers or that the NBA, which doesn't even allow high school graduates to enter the draft without at least one year of college, would permit the Knights to suit up a 14-year-old. Stranger still, real NBA stars appear as themselves, allowed the filmmakers to show them getting schooled by a little kid. In a sport where players are notoriously afraid of getting 'posterized,' what in the world convinced guys like Jason Kidd and Vince Carter to let themselves be dunked on by a 5'2″ teen? Oh, right. Money.
"Celtic Pride" (1996)
Directed by Tom DeCerchio
"Celtic Pride" is the story of Mike and Jimmy (Daniel Stern and Dan Aykroyd), two Boston Celtics fans who try to help their team win the NBA Finals by kidnapping their opponent's star player (Damon Wayans) before the all-important series' Game 7. Their plan is extreme, but then their obsession is extreme. The Celtics have won more World Championships than any other team, and at the time "Celtic Pride" was made, they were only 10 years removed from their last championship. In other words, these fans were hardly starved for success. (The Utah Jazz, on the other hand, who are the Cetlics's opponents in the film, have been in the NBA for over 35 years and they've won exactly zero titles). That's part of what makes the film interesting. "Celtic Pride" co-writer Judd Apatow's dark script was the most blatantly uncommercial of his career until last summer's "Funny People" (another film about fans and stars, and the conflicts that arise when that class divide is breached). We don't root for Mike and Jimmy, we sort of hate them and their greed, which is probably why the movie doesn't really work as a comedy. That's because the rules of comedy demand that the end of the movie absolve and even celebrate Mike and Jimmy's actions, rather than chastise them for what is, let's face it, cruel, illegal behavior. Still, I do admire the scene where Mike's estranged wife, watching the Celtics-Jazz game on television, oh-so-casually drops the NBA's mid-90s advertising slogan "I love this game!" We sure do.