More country, "Love Don't Let Me Down," Gwyneth Paltrow in various stages of undress.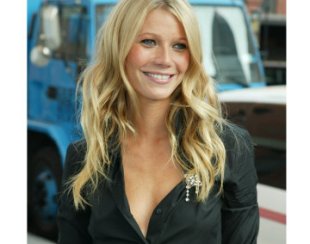 Posted by Brandon Kim on
Honky Tonk! Post "Crazy Heart," there is yet another country music movie coming out. "Love Don't Let Me Down," stars Gwyneth Paltrow, Leighton Meester ("Gossip Girl"), Garrett Hedlund ("TRON Legacy"), and country star Tim McGraw. He's one of those rare country music Democrats you know, so I'm sure there was no uncomfortable silences between the stars. Mcgraw, actually keeps his singing voice to himself in this one but Paltrow does her own vocals in the film. I hear her voice is surprisingly good.
[Gwyneth Paltrow, somewhat buttoned.]
"I played a country music singer. It's all new original work. It was incredible," Paltrow told MTV News. "I had to learn how to play guitar, and I took singing lessons. It was a real challenge, but I felt like I pretty much pulled it off."
She plays a troubled has been who tries to make a come back with help from a young rising star (Hedlund). Complications arise with her husband/manager (McGraw) and the obligatory drug and alcohol problem. "It was a brutal shoot," Paltrow added, "I mean I wasn't naked, naked, but I was semi-naked, in various stages of undress." That doesn't sound too brutal to me.
MTV News video interview.