Brittany Murphy's husband, Simon Monjack, found dead.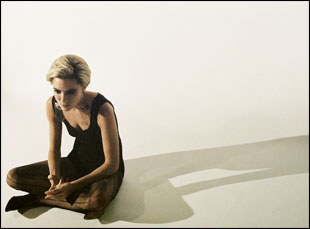 Posted by Matt Singer on
Five months after the death of his wife, actress Brittany Murphy, British screenwriter, director and producer Simon Monjack was found dead at the couple's Los Angeles home.
According to the Associated Press report, police have already ruled out foul play or criminal activity in Monjack's death, while TMZ says their sources indicate evidence of a possible accidental overdose from prescription medication.
Flying home from Sundance, I just happened to catch the following segment from "The Today Show" on my seatback television, where Matt Lauer interviewed Monjack and Murphy's mother Sharon:
According to Monjack — who was, let's not forget, a screenwriter — "Hollywood broke [Brittany Murphy's] heart" (Murphy died December 20th of last year after going into cardiac arrest brought on by "a combination of pneumonia, iron deficiency, and multiple drug intoxication."). He also insisted that the movie business had "blood on [its] hands" for its poor treatment of his late wife. Some, though, disagree. After her death, there was a lot of hubbub online about Monjack potentially negative influence on Murphy.
In the "Today" interview, Monjack mentions Murphy's departure from a project named "The Caller" and how that, coupled with the effect of negative rumors around Hollywood, cost Murphy a job on "Happy Feet 2" and greatly increased her stress level around the time of her death.
But according to Roger Friedman, it was Monjack himself who cost Murphy her job on "The Caller," by showing up to the set "inebriated" and forcing Murphy to choose between him and the production.
Over on blogger Jeffrey Wells' site Hollywood Elsewhere, director George Hickenlooper called Monjack "a con man and a bad guy" and claimed that his story credit on his film "Factory Girl" was a result of him suing his way onto the project. (Wells, for his part, called Monjack a "food monster" and later "an overweight scumbag". In other words, his report on this turn of events should be pretty interesting whenever it arrives.)
I bring this stuff up not to imply Monjack had any part in Murphy's death or that he got what was coming with him in his own death, but rather to observe that these rumors Monjack told Lauer about swirled around him as well. Depending on who you believe, they were founded of truth or jealousy. Maybe it was a little of both.
Either way, the echoes between Monjack and Murphy's death are immediate and eerie: both died of cardiac arrest in the same room of the same house, and both were found by Sharon Murphy, Brittany's mother. Regardless of whose blood is on whose hands, this is another one of those icky, sad Hollywood stories that happens far too often.
[Photos: The disputed "Factory Girl," MGM, 2006; Rachelle Lefevre, who replaced Murphy in "The Caller," on set with co-star Stephen Moyer, via Lefevre's Twitter account]