Moar Joaquin Around with Affleck and Phoenix.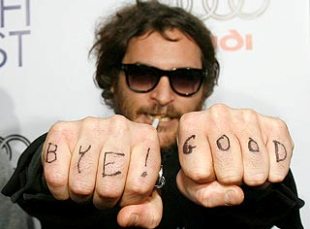 Posted by Brandon Kim on
So it's confirmed that Joaquin Phoenix has been putting us on. I knew this way back in '09 when I penned a little rap in honor of his shopping rampage at a Red Balls store on Melrose. He bought a black velvet cape and yelled "MONEY" at the cashier girl. Still, a little part of me wanted to believe, wanted to take him at face value.
Now, both overjoyed and underwhelmed by the confirmation that Joaquin's trip into raptard world was a joke, an elaborate mockumentary set up, I wonder what the merits of the film would be? Deadline reported that "the film made its debut in a private lunchtime screening at WME headquarters last week for buyers — including Harvey Weinstein — who were sworn to secrecy."
WME is not a wrestling organization, it's William Morris Endeavor Entertainment, the company selling the film, which Casey Affleck has been too noticeably shooting everywhere Joaquin went.
You may recall the slew of mumbling interviews, not least of which was the most uncomfortable Letterman episode since Crispin Glover's 1987 appearance.
There was the hideously bad performance in Vegas, where people never seemed to stop hooting and cheering (where he finally fell off the stage after bouncing stupidly for a while to strobing camera flashes).
Then there was the aggro in Miami where Joaquin jumped off the stage to beat someone down, after yelling, "I got a million dollars in the fucking bank account what do you got bitch?" while the crowd cheered and laughed.
I don't know what the real drive of Casey's film will be. Presumably it chronicles Joaquin's fall from grace into the pop culture hell you see above. I assume it will target the media's coverage and the public's response. How someone can be a star and sex symbol, clawed after for interviews and autographs one minute and an outcast freak the next in this constantly shallow news cycle we're all caught in. Or maybe it functions as a commentary about self-absorbed Hollywood impressarios doing dumb shit and how people eat it up.
It's hard to see widespread appeal in it unless there's some really serious scathing social critique embedded in extreme hilarity (Joaquin and Casey are clearly capable). I'm hoping it wasn't an exercise in method acting, and that in the movie Joaquin drops the persona whenever he walks out of the spotlight. I'd like to get an his unfiltered take on how jacked up our entertainment culture is after this absurd adventure.