Mia Hansen-Løve Tends to Her "Children"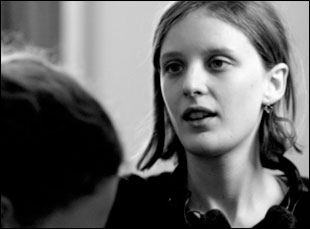 Posted by Bilge Ebiri on
Mia Hansen-Løve may initially seem like an odd person to make a film about the death of a film producer. Although the young actress-cum-director has been intimately involved in the world of cinema since her appearance at the age of 18 in director Olivier Assayas's "Late August, Early September" (1998) (she even wrote for the iconic journal Cahiers du Cinéma for a while), she freely confesses to not being a big cinephile: "My life and my work aren't really about films and the film world," she says. But — perhaps in the same way that Assayas (now her fiancé, and the father of her child) has made films about the way business and industry infiltrates the lives of the people around it — she turns out to have a compelling approach to this subject matter.
Based around the 2005 suicide of legendary French producer Humbert Balsan, "The Father of My Children" is a remarkably matter-of-fact detailing of the events leading up to, and following, the death of an acclaimed though financially troubled film producer. With its refusal to sentimentalize or analyze its characters and their motivations, it may seem cold at first glance, but there's a lot of humanity here. Indeed, it's a film more about the business of living than about the business of death. The central character may be the producer, but one could argue that the real protagonists of the film are those he leaves behind — his family and, most notably, his troubled company. While Hansen-Løve was in New York, she spoke about the difficulties of making a film set in the film business and when she first wanted to become a filmmaker.
How closely does "The Father of My Children" stick to the story of Humbert Balsan and his suicide?
The story that's most truthful here is that of the film production company — the kinds of films they were making, the atmosphere there, and the last days leading to the bankruptcy. And the character of the producer is very close to his aura, his energy and his way of being. But the things around him — his personal life, his family — those are fictional.
The film resists psychoanalyzing the character, which is relatively rare in a film about suicide. His death comes as quite a surprise when it happens.
It was very conscious on my part not to make this a psychological analysis of this character. I wanted to show the path of his life up to this suicide, but to do it in a very precise way, to take a more objective, outside view. If you try to do it from a psychological point of view, there are always things that are going to escape you. His death was something that belonged to him — we really can't grasp it.
For example, in the scene where we see him burn some letters, a lot of people ask, "What was in those letters?" And we don't know — that's something he takes with him. To see him burn the letters, but to not see what was in the letters, I felt was a way of showing that this choice belongs to him. And I didn't want to make a film where everything leads to the suicide, and everything is supposed to explain it. I wanted it to be a surprise — in real life, that's usually how it happens.
In a way, the film isn't really about suicide. It's more about unfinished business and the things he leaves behind. We don't even see any of the mourning that happens after he dies.
When we were looking for the financing, I told people, "It's a film about the last days of a film company, and I'd like to make Moon Film [the suicidal producer's production company] the main character of the film." People usually ask me, "Why did you make him die in the middle?" The way the film is structured, it's not a film that changes a lot after the suicide happens. The rhythm basically continues — I wanted to show the various stages the company goes through in its final days.
Was it hard to get this financed? Film people tend to think no one else is interested in stories about film people.
Exactly! Thank you for saying that! That was exactly the problem we were facing. Fortunately, I was able to get the film financed because my first film had had some critical success. We would see people who were in the business, and they would think that everything else in the world is universal but that the film industry is different and that nobody would want to see this. Maybe the film industry is different on some level, but I feel that anything can be made interesting depending on how you film it.
Obviously, the world of film production is something you know intimately. But most of your audience won't be familiar with it. You said you wanted to be precise and truthful. How did you strike that balance?
When I was writing the screenplay I didn't even think about it. I was relying mostly on my own emotions, and as the script and the film developed, I felt these questions would resolve themselves. I wrote a first version of the script where the technical parts that deal with the company were just approximations. And then I did a lot of research, I talked to a lot of financiers and attorneys — I wanted to know what the dialogue would sound like, what the technical aspects of this situation would be. Not so much for the overall critique of it, but to make sure that I was getting that technical aspect of it correct.