"Metropolis" returns us to days of futures past.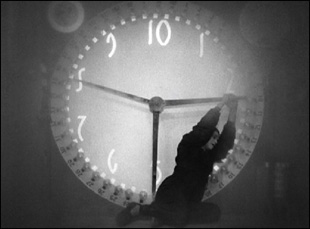 Posted by Matt Singer on
In movie theaters all over the country this weekend, audiences will flock to "Iron Man 2" for a view of the future — the alluring yet unsettling intersection of man and machine. At Film Forum this weekend, New Yorkers will have the chance to see the same thing in its original form, in the "complete" version of Fritz Lang's silent sci-fi masterpiece, "Metropolis."
Though that description is a bit of a misnomer — this version is still missing some footage, including at least one important sequence – the newly restored "Metropolis" is still far closer to Lang's original 150-minute cut than anything anyone has seen since 1927. Shortly after its premiere, Paramount, the film's U.S. distributor, cut the film by almost an hour out of concern that American audiences wouldn't sit still for the full runtime. (By the by, "Iron Man 2" runs 124 minutes.)
In the intervening years, "Metropolis" has undergone numerous transformations, ironic for a film that is very much about the nature of transformation, including some cuts of less than 90 minutes. The most recent "definitive" restoration from 2002 (available on a "Restored Authorized Edition" from Kino, who is also distributing this "complete" version) ran 124 minutes and required ample use of expository intertitles to replace lost scenes.
As detailed in the New York Times by Larry Rohter, the breakthrough came when Argentinean film archivist Fernando Peña found a nearly complete 16mm print of "Metropolis" buried in the archives of Argentina's Museo del Cine. That eventually led to this new version, which marries previously lost sequences from the Argentinean print to the 2002 restoration.
You don't need to be a Lang scholar to identify the additions. Because of the smaller 16mm negative, the new footage is letterboxed on the top and left sides of the frame (plus there's no mistaking the grain and dirt of the Argentinean scenes for the stunning clarity of the 2002 restoration). The improvements in narrative coherence far outweigh any distraction caused by the sudden drops in visual quality.
Plus, even without the enhancements, the movie is still one of the coolest pieces of eye candy the movies have ever produced, and easily one of the top five best-designed productions in history. (The score, by Gottfried Huppertz, remains a classic as well.) Any excuse to see this film projected on a big screen is a good one. A viewing of "Metropolis" is like a ticket to the past and a gateway to the future all at once. The ideas it contained — the thematic ones about the war between religion and technology by writer Thea von Harbou, and the astonishing visual ones by Lang — continue to inspire films to this day. Eat your heart out, Tony Stark.
Here's one particularly exemplary sequence, the introduction of worker-devouring "Moloch" machine. This is not Huppertz's score.
[Photos: "Metropolis," Kino, 1927]