Liam Gallagher takes a bite out of the Beatles' Apple.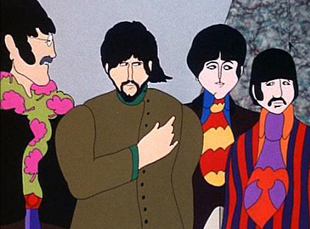 Posted by Vadim Rizov on
Amidst all the groaning and disappointment currently emanating from Cannes, there was a bright spot: Liam Gallagher — he of the ferociously entertaining interviews and, oh yeah, Oasis — arrived at Cannes, fresh from the dissolution of his band, to talk up his forthcoming movie "The Longest Cocktail Party." Advance rumors have pegged this as a film about the last days of The Beatles, but this, he told The Guardian's Xan Brooks, was untrue. It's about Apple Records, the mostly unsuccessful record label they founded, and it's based on Richard DiLello's memoir, which appears to be one of those reasonably amusing tell-all accounts from inside a failure and a warm-up to all those burning-your-industry-bridges autobiographies to come.
It's worth clicking on the Brooks link just to watch the video, where Gallagher manages to say "You know what I mean?" 20 times in three minutes. Still, he has his lucid moments: he says he's only going to make one film and then get out ("I'm not gonna be doing films about whales or unkempt eyebrows"), which is a mild shame insofar as musicians don't have much of a history of making films about other musicians. Then again, critics have long pointed out that Oasis owes a debt to The Beatles, and to make a film even tangentially about them seems to be the logical culmination of a lifetime.
Nonetheless, when Brooks asks about what it means to make a film about The Beatles, Gallagher snaps that this movie won't feature the band in any way because "that's been done" and biopics suck. All of which is true. But there's another reason a Beatles biopic would be redundant, despite the fact there's never been a full-on, career-spanning one — more so than pretty much any other band, The Beatles meticulously documented themselves to make sure no one would ever have to conjure them up again.
Though at first they were content to just be subjects (in the Maysles brothers' bright and bemused "Meet The Beatles"), the band quickly figured out that image self-management was the only kind that worked. That's a simplification: they weren't happy with "Help!" and "Yellow Submarine" and "Let It Be" were only done to fulfill their obligations to United Artists. Still, they're there on screen, in roughly all of their incarnations; even when they were hiding in the studio, they were on-screen one way or another. If they hadn't been trying, there still couldn't have been a more effective way to discourage future filmmakers than flooding the market with their own productions. (It's no coincidence that all their biopics have focused on the early, relatively undocumented days.)
In fact, "Yellow Submarine" did fictionalize them while they were together more neatly than any post hoc movie could. They admitted long after the fact that they were actually pleased with the film, as well they should've been. It gets the balance right between the clean-cut wit of their early incarnation and the later period, when the band was venturing into weirder psychic terrains and…well, you know all this stuff, but the movie splits the difference so genially that it kind of sums up everything lovable about the band without all the garbage. The animation remains genuinely surreal, so much so it can make over-familiar songs seem momentarily strange again.
Liam Gallagher doesn't want to mess with the Beatles's legacy; he just wants to use their record label to show why the record industry doesn't work, or to champion an underappreciated aspect of the band's oeuvre. (The book looks like terrific source material, honestly.) Good for him.
[Photos: "Yellow Submarine," MGM/UA Home Entertainment, 1968.]