LCD Soundsystem, This Is Happening. "Drunk Girls" live.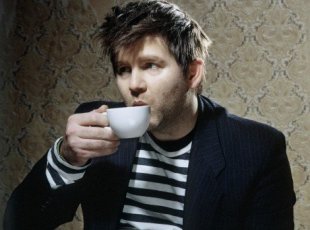 Posted by Brandon Kim on
July of '02 was aimless and drunken, a typical summer in the Midwest where I was then, doing my thing and DJing every weekend. Wearing out my needles as it were. That's not a drug reference. I had shed a former life as a well dressed broker douche bag and was momentarily just living off savings, buying new records with DJ money and hanging around with drunk girls.
I hadn't been that broke but content in 2 years, and never "cooler." The DJ is instantly cool – I mean real vinyl DJ's not that ipod bullshit, or laptops. That's Namby Pamby stuff man. You gotta be hauling records, dropping needles. You don't have to beat match or be a genius, just have a touch of class and know how to move a crowd. Good taste is all you realy need, you can learn good timing as you go.
I remember picking up LCD Soundsystem's "Losing My Edge" single at a place called Atomic Records which no longer exists. I had just rediscovered Brian Eno and was listening to a ton of The Fall and it just blew me away. I listened to it once and played it out later that night at a little club and it lit the floor up hard. And no one had heard it yet. It was mine, all mine! And oh, I made those girls move. Man there's no feeling like it. You DJ's know what I mean. But what fleeting glory… always, the kids are coming up from behind.
I love this quote from LCD Soundsystem's James Murphy, now 40 and even more self-aware I'm sure.
"When I was DJing, playing Can, Liquid Liquid, ESG, all that kind of stuff, I became kind of cool for a moment, which was a total anomaly. And when I heard other DJs playing similar music I was like: 'Fuck! I'm out of a job! These are my records!' But it was like someone had crept into my brain and said all these words that I hate. Did I make the records? Did I fuck! So, I started becoming horrified by my own attitude. I had this moment of glory though. People would use me to DJ just to get them cool. They'd be like 'It's the cool rock disco guy' and this was really weird. And to be honest I was afraid that this new found coolness was going to go away and that's where 'Losing My Edge' comes from. It is about being horrified by my own silliness. And then it became a wider thing about people who grip onto other people's creations like they are their own. There is a lot of pathos in that character though because it's born out of inadequacy and love."
True. LCD Soundsystem's new album This Is Happening is out now on EMI.
There's a huge DFA bash/LCD Soundsystem afterparty at HighLine Ballroom saturday night, with about everyone in the band DJing in case you're in Manhattan and want to get sweaty.