A selected history of Larry King cameos.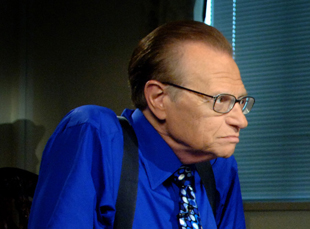 Posted by Vadim Rizov on
Larry King has been in the news (well, "the news") lately because of speculation his CNN contract won't be renewed next year, taking him off the air at age 77.
Even if King — whose famously non-confrontational, no-preparation approach to interviewing has inexplicably given him a lengthy career — will no longer be gracing the small screen, his legacy on the big screen will live on. King is a well-known film buff of sorts, whose place as the king of cameos is undeniable. Here are seven of his appearances throughout the year as King's societal prominence kept changing.
"Ghost Busters" (1984)
King's cinematic debut came pre-CNN, back when he was the New York-based host of talk radio about everything and nothing in particular. In "Ghost Busters," he's part of a montage of media coverage for crew, who are fodder for everything from the Atlantic to USA Today. King, as it happened, was part of the Today empire: from 1982 to 2001, he had a regular column, described by the New York Times' Felicity Barringer as "a weekly offering studded with plugs, superlatives and dropped names — all usually in close proximity to one another." Here's King vs. the Ghostbusters, sitting in a radio station, smoking up a storm the old-fashioned way.
"Dave" (1993)
The late '80s/early '90s were a lean time for King, cameo-wise: despite his increasing prominence as the face of CNN, he was relegated to forgettable fare like Dudley Moore's "Crazy People" and "The Exorcist III." "Dave," then, represented a breakthrough for King's career, and quite possibly its peak. Reunited with "Ghostbusters" director Ivan Reitman, King brings Oliver Stone onto the show to discuss whether or not the "president" is an imposter — which he is, since regular joe Kevin Kline has temporarily taken over from president Kevin Kline for complicated reasons. This is a bit of meta-genius: Stone's appearing in a Warner Bros. movie (which also made "JFK," the peak of his conspiratorial worldview) mocking his image as a paranoiac — but he's right!
"The Long Kiss Goodnight" (1996)
Shane Black's screenplay for "The Long Kiss Goodnight" was mild commercial redemption for Renny Harlin after the "Cutthroat Island" debacle, though it only made $89 million worldwide. King shows up at the very end, after the plots wound down and everyone's safe. Samuel L. Jackson is in the studio to talk about his role in saving the free world and explains to King that initially CNN's reporter Carla didn't believe the story because she "failed to realize that I'm always frank and earnest with women. In New York I'm Frank, in Chicago I'm Ernest." Jackson proceeds to laugh like a maniac and King (who's been married seven times to eight women) creepily joins in. It's kind of an indelible moment (jump to about 8:50).
"An Alan Smithee Film: Burn Hollywood Burn" (1997)
Joe Esterzhas' forgotten all-star fiasco of the '90s, "An Alan Smithee Film: Burn Hollywood Burn" was arguably a more entertaining trainwreck than, say, "Waterworld" in terms of pure production chaos. With only the finest cameos 1997 could offer (Whoopi Goldberg! Shane Black!), this would-be satire about Hollywood idiocy and a director wanting to take his name off a film was a prophecy of its own production: Arthur HIller was dissatisfied, tried to take his own name off, and the whole mess eventually discontinued the Alan Smithee psuedonym. Here King's at the center of the entertainment world as he always wanted to be: his interview with frustrated screenwriter Eric Idle (who's taken his movie hostage) turns him into a cult hero, thereby confirming what an important player in the film world Larry King thinks he is.
"Mad City" (1997)
Bearing the important message that sometimes the news media is exploitative and irresponsible, "Mad City" is a toothless "indictment" of the obvious, nearly 50 years after "Ace In The Hole" did it better. As helmed by a long-past-his-prime Costa-Gavras (this is no "Z"), this is flabby rage: when John Travolta takes hostages and loses his blue collar cool, reporter Dustin Hoffman is in the building and runs with the story. One of the things he does is sell interview rights to Larry King so he can screw over his rival Alan Alda. I'm not entirely sure why King consented to be in a movie in which he's essentially shown to be an easily manipulated, ratings-crazed journalist who doesn't really care about the ethics of what he's doing, but that's essentially what ends up happening. Also in the movie: Jay Leno, who — like King — has a small cottage industry of cameos.
"Bulworth" (1998)
In the middle of Warren Beatty's satire — a frustrating mix of brilliant material surrounded by sludge — his Bulworth (a career politician turned unlikely rapping truth-teller) is going crazy on the debate stage, muttering to himself while the lights are out. Coked-up adviser Oliver Platt — at rock bottom, convinced he's wasted his career on Bulworth — runs into King, who says he has to have Bulworth on his show. At that moment Platt realizes what should've been obvious from the beginning: in a country where 20% of the electorate voted for Ross Perot in 1992, eccentric and bold pronouncements are valued for their own sake. Bulworth is going on Larry King? Fantastic! Can they do it tonight? No, Clinton's on. "Bump him!" he barks.
"John Q" (2002
At the end of Nick Cassavetes' bizarre call to arms for health care reform, John Quincy Alexander — having saved his boy's life — goes on trial, prompting a montage of news reaction both real and staged. The staged bits include King (and, yes, Leno again). "Hero or vigilante?" muses King. "You decide!" — which is a perfect summation of King's no-stakes, no-commitments approach to his job. Controversial issue? Don't think about it! Smile and the world smiles with you. As a Memorial Day bonus, below the "John Q" video (relevant footage starts at 0:15), here's David Letterman's proposed cameo for "Iron Man 2," which really should've been in the movie.
[Photos: Larry King photo via Wikimedia Commons, photo by Petty Officer 1st Class Chad J. McNeeley, 2006; "Ghost Busters," Sony, 1984; "Dave," Warner Bros., 1993; "The Long Kiss Goodnight," New Line Cinema, 1996; "An Alan Smithee Film: Burn Hollywood Burn," Disney, 1997; "Mad City," Warner Bros., 1997; "Bulworth," 20th Century Fox, 1998; "John Q," New Line Cinema, 2002]