The secret cinephilia of Ken Kwapis, director of "Dunston Checks In."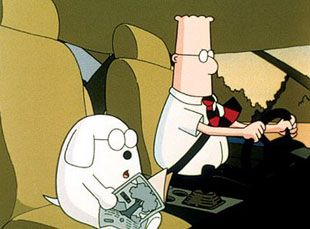 Posted by Vadim Rizov on
The news that "Dilbert" is poised to become a live-action movie didn't exactly set the internet on fire with glee. Nor did the news that Ken Kwapis is going to direct it.
Because of his resume — which includes Faye Dunaway-vs.-a-chimp flick "Dunston Checks In," the Robin Williams vehicle "License To Wed" and, most recently, "He's Just Not That Into You" — he's generally slotted, if not in the uber-hack category, among the ranks of insignificant directors. Given his track record, this seems fair. The important word here is "seems."
I'm not about to mount a defense of "Dunston" (which even the child target audience could tell was bad). But I am going to offer one for "The Sisterhood of the Traveling Pants," the adaptation of the YA novel that Kwapis took to screen in 2005. It wasn't a movie I sought out: I was dragged there on a date, like most of the males in America who saw it.
I wanted to hate it — it's a movie aimed squarely at the tween market, crassly calculated to knock over every demographic. It's four girls are tailored to each speak to someone: Greek girl who has a blithe foreign summer romance, the totally normal blond girl who has sex too soon and grows, the Latina child of divorce, the Hot Topic pseudo-goth. The girls bond over a pair of magical jeans that fit all of them. It sounded insufferable.
But there's an edit in it that seemed like an homage to "Lawrence of Arabia"'s famous match cut, and a few shots that seemed deliberately modeled after Antonioni. The movie's not perfect, but it's far cannier and better than you'd expect, and doesn't have that irritating feeling of condescending vacuousness so many films aimed at teens do.
Spotted those references made me feel like I was hallucinating or rationalizing, but they were confirmed by Ray Pride's interview with Kwapis, in which the director acknowledges both reference points and many more (Rouben Mamoulian! Andreas Gursky! "Sunrise"!). He is, in short, a shockingly well-versed cinephile nerd of the arthouse order. Everything that made "Sisterhood" better than it had to be accorded with his intellectual overqualifications.
So why does Kwapis continue churning out so many universally reviled comedies? It's not that he's stupid, and he doesn't have the problem of the likes Ang Lee or John Sayles, whom frequently seem too smart for their own good and end up underlining their subtext in the movie equivalent of red ink. Being smart and well-versed in film doesn't automatically equal making good ones yourself — but the stuff about "Sisterhood" that's good belong to Kwapis, the demographic cynicism all being from the source material.
What Kwapis' career reminds me of is that — as with everything — talent and intellect are helpful but not overwhelming. Who knows how many adept filmmakers get buried under a sea of mediocre (or awful) material they were powerless to elevate? It's a reminder that few filmmakers deserve to be automatic punchlines because of their resumes. Kwapis is in some ways a studio system casualty — albeit a successful, working one, who's made some passion projects and directed many widely beloved TV shows (his work on "The Larry Sanders Show" is impeccable).
Here's the trailer for "Pants":
[Photos: "Dilbert," Sony Pictures Television, 1999-2000; "The Sisterhood of the Traveling Pants," Warner Bros., 2005]