Kevin Costner and Stephen Baldwin: unlikely bedfellows.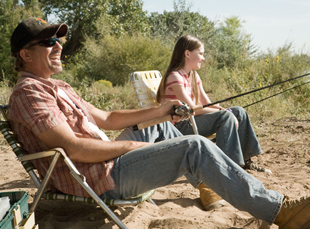 Posted by Vadim Rizov on
The BP oil spill continues apace, resonating with showbiz types in the strangest ways. First came Kevin Costner, who arrived in New Orleans last week bearing a machine that — unbeknownst to everyone, apparently — he'd been funding the development of since the 1989 Exxon Valdez incident he swears can purify 200 gallons of water/oil per minute. Now Stephen Baldwin has stepped up, announcing an anti-offshore drilling movie ("The Will To Drill"), with one of the associate producers of "The Cove" helping out. These men are unlikely allies, though in weird ways they're mirror images.
These days, Baldwin's perhaps best known as America's most unlikely, fervent minor-celebrity-turned-zealous evangelical. He's a serious man: in 2006, he led a campaign against the opening of a sex shop in Nyack, NY, threatening to photograph all porn shop patrons and license plates. A strong Republican, he called Obama a cultural terrorist and threatened to move to Canada if he was elected. (He didn't.) He's the inverse image of brother Alec in every way. In recent weeks, he's been brought up as the subject of jokes about the bizarre "Restore Stephen Baldwin" website, allegedly established by an anonymous Christian donor to help the embattled Baldwin out financially.
Kevin Costner, meanwhile, is not nearly as big a star as he once was, but he still makes a movie a year (at least) and appears to be comfortable. A confirmed Democrat, he campaigned for Obama in Colorado — his cred, perhaps, solidified by his increasing involvement with NASCAR. He also has a country music career (with Kevin Costner & Modern West), though no one in the United States really seems aware of this (their most recent album is import-only, and none of their singles have charted here).
Ethos-wise, Costner — fittingly, arguably never better than as the smartass "Bull Durham" — is very close to the kind of "NASCAR Democrat" envisioned by the likes of controversial Democratic strategist Dave "Mudcat" Saunders, using a common-guy ethos to try to win over potentially indecisive voters.
That makes the Baldwin-Costner alliance about as unlikely as possible; about all they have in common is that they act differently from how people with their political positions stereotypically do (Costner with his country/NASCAR act, Baldwin with his evangelizing of skateboarders even while addressing Tea Parties). Baldwin's gesture is particularly unexpected, since the Tea Parties generally quite enjoy the Palin "Drill baby drill!" chant. Might that make Baldwin the first evangelical Tea Party environmentalist/anti-oil person? Is there redemption for evangelical punchlines? Will Baldwin never get to speak at a Tea Party ever again? Stay tuned.
Meanwhile, here's one of Costner's songs. It's pretty terrible, but it's full of NASCAR fun:
[Photos: "Swing Vote," Disney, 2008; "I'm A Celebrity…Get Me Out Of Here!," NBC, 2009.]