Jean-Pierre Jeunet Builds a Better Mousetrap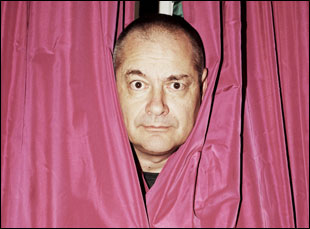 Posted by Nick Schager on
Jean-Pierre Jeunet's idiosyncratic style was apparently from his apocalyptic comedy debut "Delicatessen" (co-directed with Marc Caro), and solidified with his dark fairy tale "The City of Lost Children," his breakout mainstream hit "Amélie," and now again with his latest, "Micmacs." The comedy follows a lonely video store clerk who, after almost being killed by a gunshot to the head, teams up with a band of oddballs to take down the rival weapons manufacturers responsible for the bullet lodged in his cranium and the landmine that killed his father.
"Micmacs" is pure Jeunet, a gorgeously composed carnival-esque fable teeming with gizmos and knickknacks, eccentrics and clowns, and a smorgasbord of inventively constructed Rube Goldberg traps. While in New York, Jeunet sat down to discuss his newest effort's political edge, his method for keeping his work fresh, and the way in which "Micmacs" represents a possible end to a creative cycle.
"Micmacs" has a lot in common with your previous work, yet it also features political undertones. What compelled you to deal with the issue of arms dealers?
I don't want to say it's political. I was just interested in those people. The first time I met them was during the editing of "The City of Lost Children." We were on the street besides these guys, and they were very nice, and we thought it was strange. I did research, because even if it's a slapstick comedy, you have to know what you're talking about, or you'll feel it's fake. So we met people who manufactured weapons in Belgium, and they were very nice, and had a passion for technology. They want to do a better job than the other guy. And when you say "But you kill people!" they say "No, no, no, we sell weapons only to the good guys, not to the bad guys. We work for the Minister of Defense, not for the Minister of Attack."
Despite that political edge, "Micmacs" is more lighthearted than your last film, "A Very Long Engagement." Do you feel the need to balance comedic and dramatic films?
No, it was because I wanted to make a film very fast. With "Micmacs," I could make three different films — the story of revenge, the story with the band of weird people, and the weapons issue — and I tried to make one film with three different feelings in it. I was concerned. I thought "Oh my god, this issue with the weapons deal, with the slapstick…" But to reassure me, I thought about "Dr. Strangelove" and "The Great Dictator," and I thought okay, maybe its possible to make a comedy with a serious issue.
As a director with a very particular style, how do you make sure with each new project that you stay true to your creative instincts without repeating yourself?
I repeat myself. I think every director does the same thing all the time, but when you have a strong style, it's more obvious. If you don't have a style, nobody can see it. But everybody does the same thing. Except if you are, for example, Ang Lee or Ridley Scott, because they don't write the script. The studio proposes a film to them, and they say okay, Middle Age, no problem, sci-fi, no problem.
And when you see Emir Kusturica or Tim Burton, it's a little bit dangerous, because I love auteurs with a strong style, but of course, after a while, you get tired of the style, you think, "All the time, they do the same job." That's the reason I try to alternate between adapting books and doing my own things. I was supposed to make an adaptation of "Life of Pi," and it would have been very different — a tiger and a kid in a lifeboat. And I would have made it with my own tweaks and recipes. For my next project, I'm looking for a book, just to change.
With "Micmacs," maybe for me it's the end of a loop, and I won't make any more of this kind of movie. Maybe it's a kind of compendium or recap of everything I've made. Every reference, every joke, every trick.
Speaking of jokes, "Delicatessen"'s delicatessen is also in "Micmacs." Why include that?
I wanted to make a joke with nothing to say about my own film. I wanted to make a joke [in "Micmacs"] where you could see Amélie with babies crying and Mathieu Kassovitz watching a football game with a beer. But Audrey Tatou, who was shooting "Coco Chanel," refused. Kassovitz was okay with it, but not her. So I made the "Delicatessen" [reference] because I had Dominique Pinon with me. It's not an homage, it's just a wink-wink joke.
As always, the film is overflowing with gadgets and trinkets. When constructing the story, how do you meld those disparate ideas into something?
There's a recipe for that. If I see something funny or you tell me a joke, I take notes and it goes on my computer. And Guillaume Laurant, my partner, does the same thing. So when I find a concept for the film, we then open the box of details and we choose the best ones that could be in the film. Only when the box is packed with ideas, we start to write. That's the reason I can't make my own film each time, why I need to make an adaptation. Because I now have to get my box full. I'm dry now, it's pretty empty.